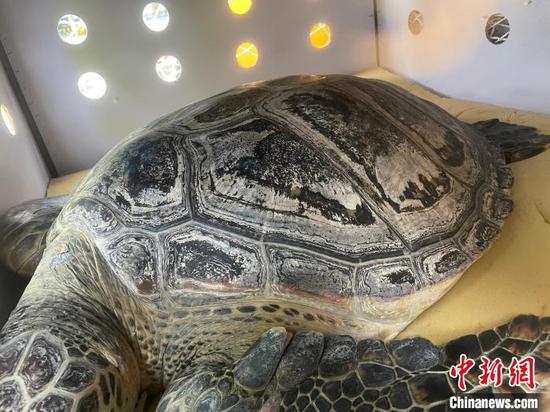 One of the six turtles which is airlifted to Sanya. (Photo provided to China News Service by
China Southern Airlines
)
(ECNS) -- Six turtles with a total weight of 400 kilograms boarded China Southern Airlines flight CZ3836 to Sanya, Hainan from Pudong, Shanghai on Wednesday and will be released in South China Sea after professional salvage and adaptability training.
The six endangered green turtles are first-class protected animals in China. A total of 12 turtles were rescued in 2019 by police in a case that involved hunting, selling, transporting and purchasing national rare and endangered animals. Six of them had been released in East China Sea in 2020. The remaining six were unable to be freed due to health complications at the time.
This is not the first time China Southern Airlines has transported animals. It has also airlifted animals like pandas, horses, penguins, flamingo, etc.