(ECNS) -- An opera staged at a foreign language school in Taiyuan, Shanxi Province on Tuesday has gained popularity among students.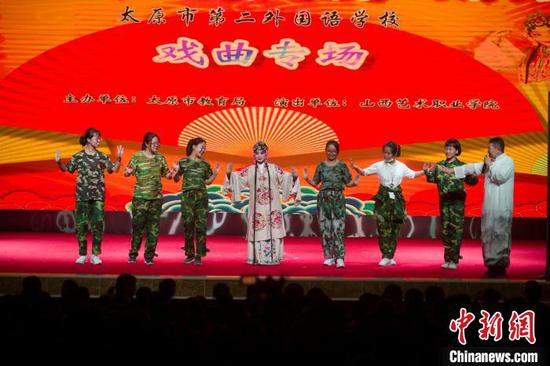 An opera show. (Photo: China News Service/Zhang Yun)
Local opera in Shanxi Province has a long history and great variety. In recent years, multiple activities including "Opera Into Schools" have commenced to further promote traditional Chinese culture.
"Of today's show, I like The Monkey King best," said Yang Zehua, a student of Taiyuan No.2 Foreign Language School. Yang has been into operas since he was a kid. "Though I don't have talent in this, I can promote it as a symbol of Chinese culture. And I hope Chinese opera, as well as other types of traditional culture, can be inherited well," he added.
According to Zhang Qian, a teacher at Taiyuan No. 2 Foreign Language School, "students have learned a lot from such activities."
"And we can't count solely on the older generation of opera artists to develop this traditional culture. The younger generation must follow up," Zhang added.
Wu Xuewen, a director from the Shanxi Vocational College of Art, explained that some recreational parts have been added to better arouse the interests of students. His next plan is to combine opera with poetry.
"I will try my best to promote and develop Shanxi opera," he said.