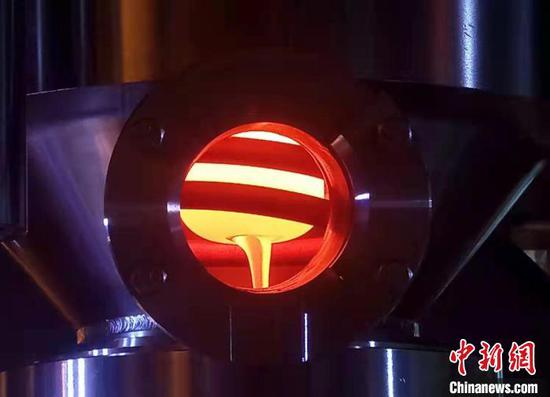 The facility is mixing the liquid waste with glass materials. (Photo provided to China News Service by the CAEA)
(ECNS) -- China's first high-level radioactive waste glass solidification facility was officially put into operation in Guangyuan, southwest China's Sichuan Province, on Saturday.
China has achieved a breakthrough in zero treatment capacity of high-level liquid waste and become one of the few countries in the world with high-level liquid waste glass solidification technology, which is of great significance to the safe and green development of China's nuclear industry.
Nuclear waste treatment is the final procedure in the safe use of nuclear energy, of which the most difficult and technically advanced is the treatment of high-level radioactive liquid.
The working method of the facility is to mix and melt liquid waste with glass materials at a temperature of 1,100 degrees Celsius or higher, then cool off the mixture until it is formed into glass.
The glass can effectively contain the radioactive elements inside, thanks to its low leaching and high strength. This method is the most advanced nuclear waste treatment method in the world so far.
The quality of the glass mixture has been stable, the facility has been running well, and relative technical indexes have reached international advanced levels since the test run of the facility began on August 27, which means it can be officially put into operation.
Hundreds of cubic meters of high-level radioactive waste is expected to be treated annually. The glass mixture will be buried deep in a disposal repository hundreds of meters underground to ensure the absolute safety of the biosphere.
The China Atomic Energy Authority (CAEA) will further optimize the layout of the nuclear environmental protection industry, improve the nuclear environmental protection capability system, and speed up the radioactive waste treatment process to enable the peaking of carbon dioxide emissions and achieve carbon neutrality, according to Liu Yongde, chief engineer of the CAEA.