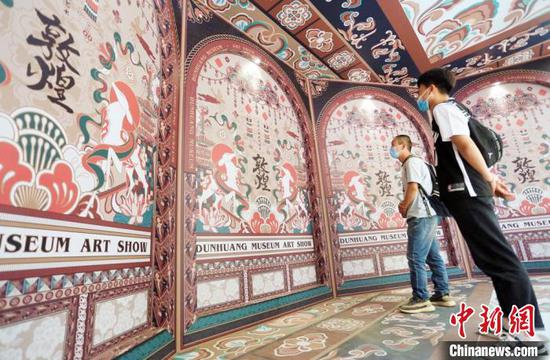 An art show about Dunhuang Museum was held in Lanzhou, Gansu Province, May, 2021. (Photo: China News Service/Gao Zhan)
(ECNS) -- Guochao is much favored by Generation Z, helping Dunhuang culture gain popularity among young people.
Over the past few years, China has seen a surge in young customers' interest in domestic brands and products that incorporate Chinese traditional style and culture, a trend known as Guochao.
Silk scarves, makeups, jelly bags, cell phone cases and other products with Dunhuang cultural elements were displayed at online and offline art shows, attracting many followers.
"Our traditional culture is so amazing! I really like these creative Dunhuang cultural products," said Wang Li, a post-90 Lanzhou girl who loves ancient Chinese culture. "I like wearing them, because I think it's a unique way to showcase fashion," she added after buying a T-shirt with a nine-color deer pattern andsilk scarf with the Dunhuang caisson pattern.
Such creative Dunhuang cultural products are much more attractive to young customers since they keep the common touch with ordinary people. "Young people have diversified hobbies now, and prefer products combining both culture and art," explained He Xiaoshan, founder of Dunhuang Museum Silk Road Souvenirs.
Meanwhile, Guochao in Dunhuang culture is also popular overseas. The Chinese Rhythmic Gymnastics Team performed "Dunhuang Flying Asparas" during 2020 Tokyo Olympic Games, amazing the world with the beauty of Dunhuang.
In He's opinion, the sensation of Guochao in Dunhuang culture is inseparable from "Generation Z" customers. In this way, Chinese cultural values can be inherited in new ways by blending fashion with traditional Chinese culture.
"More young people should join us to promote and innovate Dunhuang culture," He added, "so the sensation will last long."