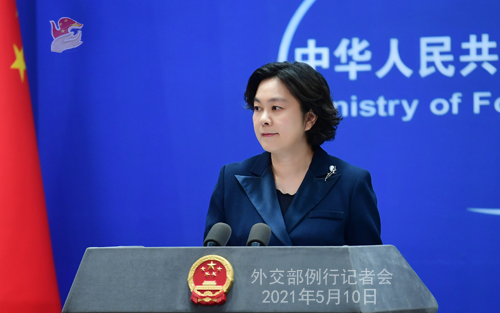 Hua Chunying, the spokesman for the Chinese Foreign Ministry, speaks at a press conference on May 10, 2021. (Photo/fmprc.gov.cn)
(ECNS) -- Chinese Foreign Ministry spokesperson Hua Chunying on Monday rebutted a so-called "internal document" cited by the U.S. State Department, which says that SARS ­coronaviruses can be "artificially manipulated into an emerging human ­disease virus, then weaponized and unleashed in a way never seen before."
"Some in the U.S. take every opportunity to cite and play up so-called 'internal documents' and 'reports' to denigrate and smear China. However, facts and truth always prove that they are either the offender playing the defendant, or making vicious interpretations by taking words out of context or with presumption of guilt, or spreading sheer lies," said the spokesperson.
Hua said that the document mentioned by the U.S. is not a classified internal document, but rather a piece of openly available academic work. It cites research by former U.S. Colonel Michael Ainscough and points out that "next generation bioweapons" are part of U.S. air force projects aimed at helping the U.S. cope with the threat of weapons of mass destruction.
"The argument by Ainscough shows that it is the U.S. that is researching the technology of genetic engineering applied to bio-warfare and bio-terrorism," said Hua.
"China has always strictly fulfilled its obligations under the Biological Weapons Convention and doesn't develop, research or produce bio-weapons. China has put in place a complete set of laws and regulations, technical standards and management systems on the safety of bio-labs," the spokesperson added.
Hua also pointed out that many countries are gravely concerned about the more than 200 overseas bio-labs in 25 countries and regions built by the U.S., which owes the international community an honest, transparent and responsible answer to those questions.