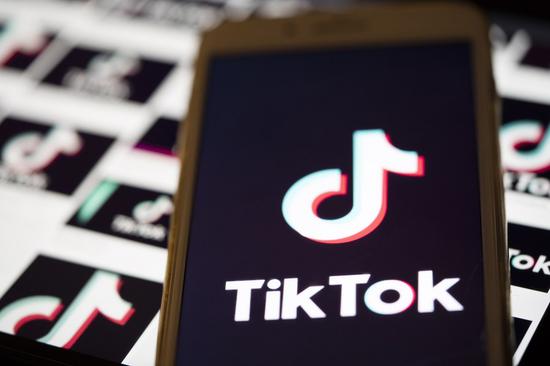 The logo of TikTok is displayed on the screen of a smartphone on a computer screen background in Arlington, Virginia, the United States, Aug. 3, 2020. (Xinhua/Liu Jie)
(ECNS)--China's Foreign Ministry on Monday slammed the recent U.S. executive order requiring ByteDance to divest its interest in TikTok's operations in the United States within 90 days.
The remarks of FM spokesperson Zhao Lijian ran as follows.
China News Service: U.S. President Trump signed an executive order on August 14, asking ByteDance to divest its interest in TikTok's operations in the United States within 90 days. According to Trump, "There is credible evidence that leads me to believe that ByteDance...might take action that threatens to impair the national security of the United States." I wonder if you have any comment?
Zhao Lijian: China has been putting forward facts, truth and reason on TikTok-related matters on multiple occasions. Here I'd like to add the following two points.
First, according to reports, in its operations in the U.S., TikTok's middle and senior management personnel, including the chief executive officer, are all Americans. Its servers are in the U.S., data centers in the U.S. and Singapore, and teams all localized. The company hired 1,500 American employees and promised to create 10,000 jobs. Its audit policy and source code are open to the public. It is fair to say that TikTok has done almost everything the U.S. side demands. However, it still cannot escape from certain U.S. individuals' disguised and coercive robbery out of selfish political gains. Some U.S. politicians are attempting to strangle TikTok with one baseless excuse after another.
Second, in the views of certain U.S. politicians, "national security" is a one-size-fits-all pretext for the country to stir up troubles and oppress non-U.S. companies. The U.S. claims that companies like TikTok threaten to undermine U.S. national security, but even a CIA assessment says there's no evidence that China intercepted TikTok data or used the app to bore into cell phones. A think-tank in the U.S. also said that there is no security justification for banning an app merely because it is owned by a Chinese company. This proves once again that "freedom and security" is nothing more than an excuse for some U.S. politicians to pursue gunboat diplomacy in the digital age.
Such bullying practices are a flagrant denial of the principles of market economy and fair competition, of which the U.S. is a self-claimed "champion". Those practices violate international trade rules, undermine other countries' interests, and will surely damage the U.S. own interests. We urge the U.S. to immediately correct its mistakes and stop smearing China and wantonly oppressing foreign companies.