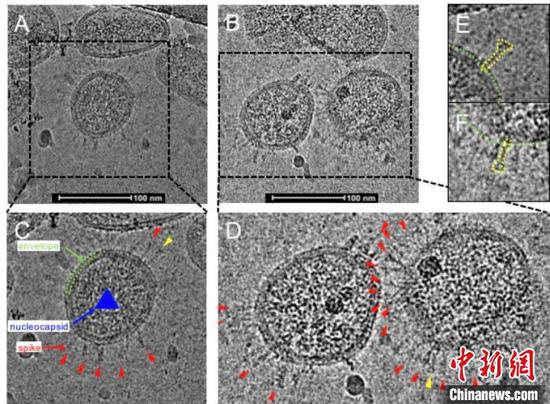 The image of inactivated novel coronavirus under the cryo-electron microscope. (Photo provided to China News Service)
Special: Battle Against Novel Coronavirus
(ECNS) -- Chinese researchers have observed the true morphology of inactivated novel coronavirus under the cryo-electron microscope for the first time, providing an important basis for identifying the virus.
The researchers from the National Centre for Infectious Diseases and the Third People's Hospital of Shenzhen joined hands with the Southern University of Science and Technology to obtain the biological samples from a patient. The team separated the virus strain on Jan. 27.
They soon completed genome sequencing and identification and named the strain "BetaCoV/Shenzhen/szth-003/2020".
The results were released on BioRxiv on March 5.
This is the first time that the researchers observed the true morphology of the virus under the cryo-electron microscope since the outbreak of the coronavirus.
The team is now trying to reveal the ultrastructure of the coronavirus, and the relationship between the characteristics of virus infection in human host cells and the clinical prognosis.
As of Thursday, a total of 95,333 novel coronavirus cases had been reported across the world, according to data by the World Health Organization (WHO).