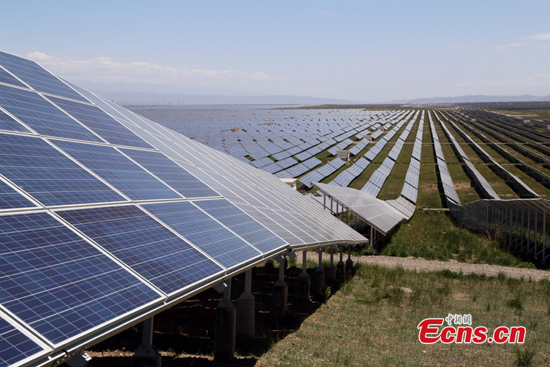 Solar panels are seen in Gonghe county, Hainan Tibetan autonomous prefecture, Qinghai Province. (File Photo/China News Service)
In addition to its natural beauty, the province is home to abundant mineral and energy resources. The potential value of proven minerals, including metal, petroleum and shale gas, now reaches about 105 trillion yuan. The Qarhan Salt Lake is the largest of its kind in China and second-largest in the world, with salt reserves of more than 60 billion metric tons.
Moreover, Qinghai's proven lithium reserves reach 17.24 million tons, accounting for 83 percent of China's total and 60 percent globally. The province is also one of China's demonstration provinces in the clean energy sector.
Having a mixed culture, such as Hehuang and Regong, Qinghai has developed into an important national ethnic cultural protection and tourist destination.
"We have organized several international activities like a cycling race, a swimming competition across the Yellow River and a poetry festival. They have raised Qinghai's profile and expanded its influence," said Liu Ning, governor of Qinghai.
For years, both the number of tourists and tourism revenue in the province have had an annual growth rate of 20 percent.
"We will create a series of tourism activities that will break the seasonal restrictions, such as self-driving tours, culinary trips and a journey highlighting folk customs and intangible cultural heritage," Liu added.
Opening up to the outside world, Qinghai has formed comprehensive road and high-speed rail networks. It also facilitates routes linking seven countries and regions, as well as 107 domestic destinations.
The province has gradually become a transport hub linking China's east and west, southwest and northwest. It is also an important gateway to the South and Central Asian countries, Liu said.
As for international relations, Qinghai has 182 trading partners and friendship ties with 20 cities from 17 countries, Wang said.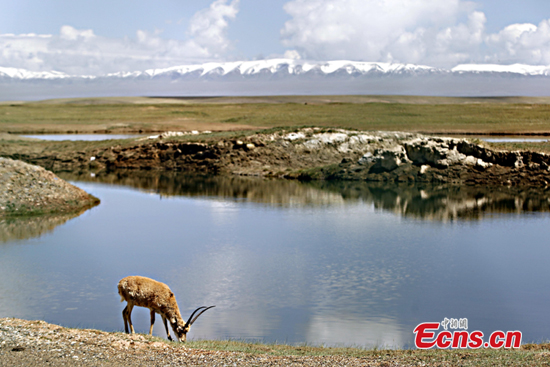 A Tibetan antelope grazes beside a lake in Qinghai Province. (File photo/China News Service)