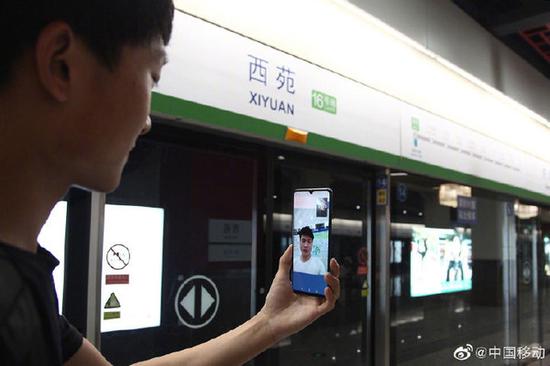 A man shows his phone with 5G signal in the Beijing Subway Line 16. (Photo/Weibo)
Special: 70th birthday of PRChina
(ECNS) -- With the support of China Mobile, Line 16 of the Beijing Subway has become the first fully underground rapid transit rail line in China to be covered by 5G service.
Fang Xuming, a professor at the Southwest Jiaotong University, said the 5G signal is accessible in tunnels and at stations on the line, but due to the complexity of the environment, including such issues as the shielding of the train, passengers may experience poor signal coverage at some sites, a problem that can be addressed through debugging and other changes.
5G mobile phones will not interfere with the operation of the subway as there will be no electromagnetic interference, he said.
Beijing MTR Corporation, the operator of Line 16, said it will promote 5G services on other lines under its operation, namely Line 4, Daxing Line, and Line 14.