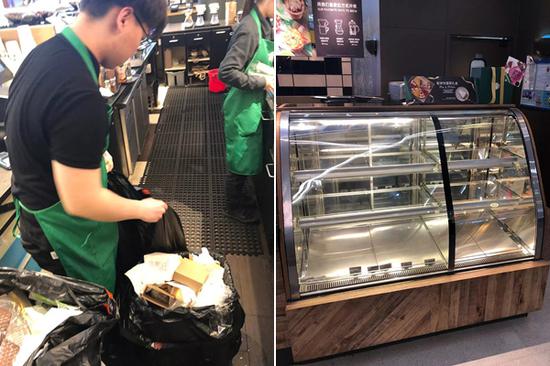 Starbucks staff at a Starbucks store in Shanghai clean the display case after cockroaches were reported crawling on food in the cafe. (Photo/WeChat)
(ECNS) -- A Starbucks store in Shanghai had to suspend operations on Sunday after cockroaches were found in its pastry display cabinet, The Paper reported.
A video clip posted online showed cockroaches crawling on food in the cafe.
The local market regulator soon sent law enforcement officers to the store located in Bailian Nanqiao Shopping Mall in Shanghai's Fengxian District.
The store was already closed, and Starbucks staff had cleaned the display case and destroyed the food inside.
The store was required to suspend operations for the near future and take effective measures to clean and disinfect the premises, equipment and facilities. The store is also under investigation for suspected violation of regulations.
The local market regulator requested a meeting with Starbucks headquarters, where they were told a third-party company will be responsible for pest control in the store.
The cafe will also replace all food display cabinets and other equipment that may have been contaminated.