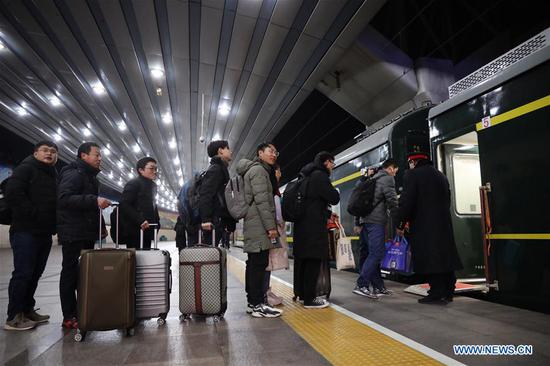 Passengers prepare to board the train K4051 to Nantong City in east China's Jiangsu Province, at the Beijing Railway Station in Beijing, capital of China, Jan. 21, 2019, the first day of the 2019 Spring Festival travel rush. (Photo/Xinhua)
(ECNS) -- Chinese tech giant Tencent has released a report on Spring Festival travel rush dynamics based on Big Data analysis.
Tencent said it now receives 60 billion requests each day from users for global positioning servics.
Shenzhen, Dongguan and Beijing, all home to large numbers of migrant workers, are expected to see the largest number of outbound travelers, followed by other developed cities of Shanghai, Suzhou, Guangzhou, Hangzhou, Zhengzhou, Chengdu and Foshan.
According to the report, people aged 18 to 30 are expected to account for 53 percent of travelers during the holiday, followed by those from 31 to 40 years old at 24 percent of the total. The top five cities with a large proportion of travelers aged 18 to 30 are Wuhan, Nanjing, Zhengzhou, Chongqing and Xi'an.
The report also shows trains are still the most commonly used means of transportation during the holiday moving more than half of passengers, followed by buses at 43 percent and airplanes at 6 percent of the total.
Zhengzhou City in Central China's Henan Province will have the busiest railway station, according to analytics, while Guangzhou South, Hangzhou East and Shanghai Hongqiao stations are also expected to see large numbers of passengers in this period.