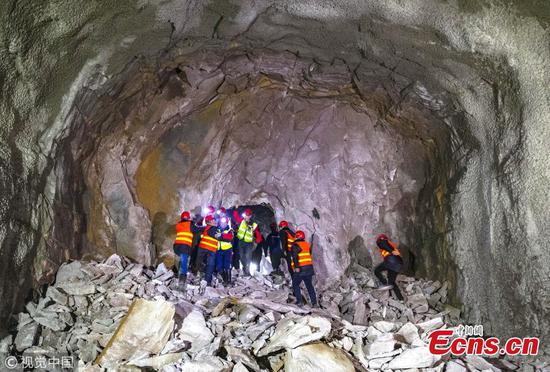 A view of the newly-constructed underground utility tunnel that will service the Beijing 2022 Winter Olympics venue in Yanqing District, Beijing, Jan. 7, 2019. (Photo/VCG)
(ECNS) - The main utility tunnel for the Beijing 2022 Winter Olympics venue in Yanqing District was fully drilled through on Monday.
Construction began on the project in September 2017, and the tunnel will be ready to deliver water and electricity this September, while pre-Olympics events will be held from next January.
The 7.9-kilometer corridor starts south of the Foyukou Reservoir and runs all the way to the venues. It has a circumference of 8.4 meters, which allows for maintenance cars to run through it.
Construction teams from the China Railway 18th Bureau Group and China Railway 14th Bureau Group celebrated the joining of the tunnel at 11 a.m.
Venues at the south of Xiaohaituo Mountain in Yanqing will host the luge, bobsleigh, and alpine skiing events during the Winter Olympics, and a games village and press center will also be built at the site.
The tunnel will carry utility lines, including electricity, water supply pipes, and TV and communications cables. The water supply, covering 70 percent of the tunnel's lower space, will include water for snow-making, drinking, and recycling.