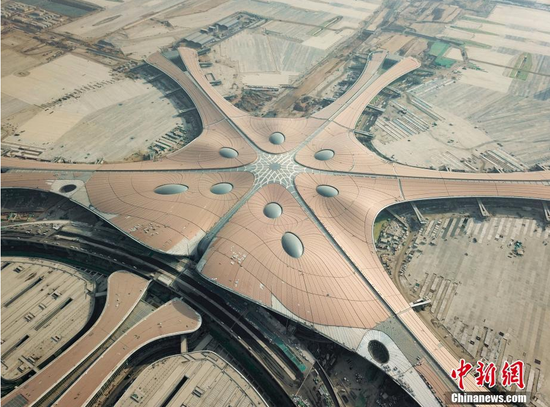 Beijing's new international airport in Daxing district is under construction (File photo/China News Service)
(ECNS) - The new mega-airport in Beijing's southern Daxing District will conduct a flight inspection this month, said an official from the Beijing Development and Reform Commission on Thursday.
External construction on Beijing Daxing International Airport has been finished and 80 percent of internal decoration and equipment installation tasks have been completed, with the airport scheduled to open on Oct. 1.
The airport's terminal buildings cover a combined 313,000 square meters and include a centerpiece with five arms resembling a phoenix spreading its wings. The radial design allows passengers to reach the furthest boarding gate by walking at most 600 meters in eight minutes or less, said the official.
The airport is well connected with Beijing's downtown area, Tianjin and Hebei Province through newly built express rail lines that go into service in September. There is also a network of highways with an exclusive road ready in June to link the capital city's central area to the airport.
Located 46 km south of downtown, the new airport is designed to relieve pressure on the overcrowded Beijing Capital International Airport, which handles 100 million passengers a year, well over its designed capacity. The new facility is located on the border between Daxing District and Langfang, a city in Hebei Province.
The airport will also play a key role in a planned "airport economic zone" to be developed jointly by Beijing and Hebei Province.