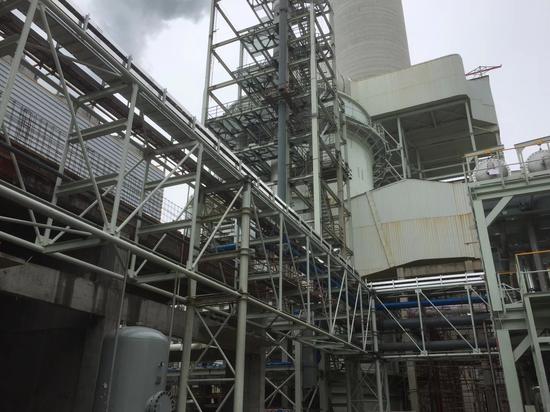 China resources Power Haifeng Carbon Capture Testing Platform Project ("Haifeng Project") started commissioning and captured the first tonne of CO2 on 23 Dec 2018. The plant is the first international multiple carbon capture technology testing platform project in Asia, operating in an open access model.
The project is co-developed by China Resources Power, UK-China (Guangdong) CCUS Centre and Guangdong Electric Power Design Institute, expected to start operation in Mar 2019. The project plans to test two amine technologies and one membrane technology in 2019.
Representatives from the Ministry of Ecology and Environment of China, Guangdong Provincial Department of Ecology and Environment and Guangdong Department of Energy visited the project and attended a project workshop with a theme of "Financing CCUS in China".
Carbon Capture, Utilisation and Storage (CCUS) is a key technology in mitigating climate change. CCUS is the only technology to decarbonize fossil fuel at large scale. CCUS is particularly important for China given the country's primary energy is dominated by fossil fuel. Currently, high cost and high energy penalty are two major hurdles in deploying CCUS. The open access capture testing infrastructure in Haifeng CO2 project provides research institutes and industries to verify novel carbon capture technologies in an efficient manner and to achieve cost reduction potentially.
During the workshop, Mr DING Hui (Deputy Director, Department of Climate Change, Ministry of Ecology and Environment) indicated the importance of building joint effort for CCUS development between government, industry and academia. Mr HONG Jianwu (Director of Climate Change, Guangdong Provincial Department of Ecology and Environment) suggested policy support is essential for CCUS development and financing CCUS requires a portfolio of policies. Mr CHEN Wei (Section Chief at Guangdong Provincial Department of Energy) said "Department of Energy would continue to support CCUS development in Guangdong."
Mr PEI Aiguo (Chief Engineer of Guangdong Electric Power Design Institute and Director of UK-China (Guangdong) CCUS Centre) believed the next step of Haifeng project should focus on three aspects: technology innovation, business model and international collaboration. Dr LIANG Xi (Senior Lecturer at the University of Edinburgh Business School and Secretary General of UK-China (Guangdong) CCUS Centre) suggested creating an effective operating model and attracting investors are key priorities and it would be beneficial if government could enhance R&D investment. LIANG also highlighted the need to prepare for scaling CCUS in Haifeng project in the near future. Mr MA Li (China Resources Power South China Region Chief Executive) concluded the workshop, "there is an urgent need to develop and operate the Haifeng project with high quality." MA also urged the project team not to underestimate future hurdles but to be determined in overcoming difficulties.
A number of Chinese CCUS and climate finance experts attended the workshop and visited the project site, including Prof PENG Bo from China University of Petroleum, Prof LIU Zhaohui from Huazhong University of Sciences and Technology, Mr SUN Yiting (Deputy Secretary General of International Finance Forum).