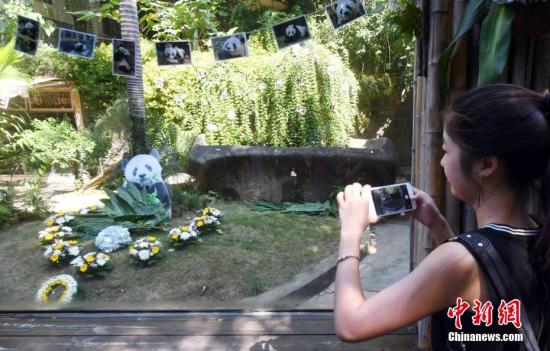 A girl takes photos of the panda house where the giant panda Basi lived. (File photo/China News Service)
(ECNS) - A project employing artificial intelligence alongside images and video material has been launched to bring back to life of the giant panda Basi, the world's oldest captive panda that died at the age of 37 in 2017.
Strait Panda Research and Exchange Center in Fuzhou, where Basi spent her last days, announced the project on Thursday on the one-year anniversary of the popular panda's death.
According to the Institute of Automation, the Chinese Academy of Sciences (CASIA), one of the earliest national automation institutes in China, the project will reconstruct a virtual Basi based on her physical shape, skeletal and muscular system and fur in a virtual 3D environment.
The virtual panda will not only mimic Basi's acts and expressions as AI is used to combine all kinds of information but also act as an encyclopaedia of panda knowledge.
Yang Yang, an engineer at the institute, said, "We will combine the latest virtual imaging technology and artificial intelligence to revive Basi in the virtual space and time we created."
The virtual panda will also appear in other scenarios, such as computers, mobile phones, VR (virtual reality), and museum exhibition halls.
Basi was born in the wild in 1980. At the age of four, she fell into an icy river and was rescued by local villagers from Basi Gorge in the county of Baoxing in southwest China's Sichuan Province. In 1990, Basi was chosen as the model for Pan Pan, mascot of the Beijing Asian Games, and became a household name.
The average lifespan of wild pandas is 15 years, while those in captivity usually live longer due to better nutrition and living conditions.
Chen Yucun, director of the center, spent half his life keeping the panda, known as a peace envoy after a visit to the United States in 1987. Chen said he feels proud and sad about the legendary panda and looks forward to her virtual reappearance.
It's hoped, through cooperation with cultural associations and artists, Basi could become the image of a new mainland culture and a symbol of "peace, going green and sharing," said Chen.