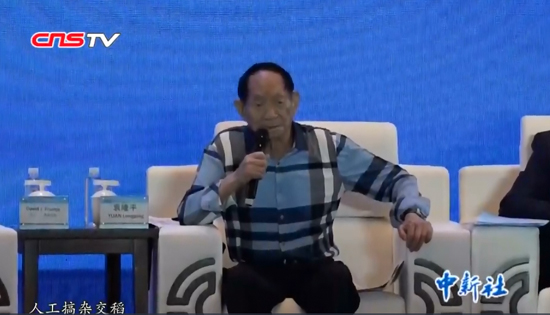 Yuan Longping, China's "father of hybrid rice" , speaks at the 4th Investing in Africa Forum in Changsha City, Hunan Province, Sept. 7, 2018. (Photo/Screenshot on China News Service TV)
Special: Forum on China Africa Cooperation 2018
(ECNS) - China's "father of hybrid rice" Yuan Longping said he is personally willing to help develop hybrid rice to address food shortage in Africa.
At the 4th Investing in Africa Forum in Changsha City, Hunan Province, Yuan said hybrid rice has proven to have high yields in China as well as African countries such as Sierra Leone and Libya.
In Madagascar, hybrid rice cultivation has reached 20,000 hectares with a yield of about 7 tons per hectare. Average local production is about 2.5 tons per hectare, according to Yuan, indicating hybrid rice has a promising future on the continent.
Yuan also shared his experience in rice research. In 1964, he happened to find a natural rice plant to use in his hybridization experiments that had obvious advantages over other species.
The Investing in Africa Forum, an outcome of the Johannesburg Summit of the Forum on China-Africa Cooperation in 2015, annually alternates between China and African countries. Participants had in-depth exchanges on a broad range of issues including modern agriculture, culture and education, healthcare, the digital economy and innovation, and climate change.