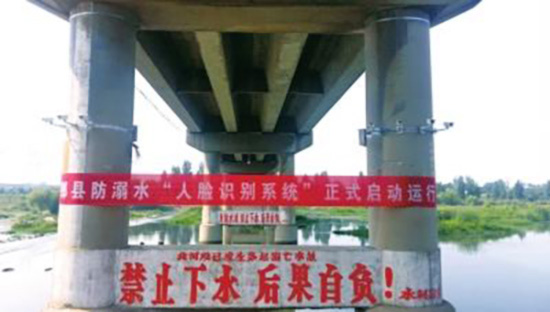 The undated picture shows the facial recognition cameras on bridge piers.
(ECNS) - A safe swimming alert system for children based on face recognition technology is undergoing tests in Pingdingshan City, Henan Province.
The moment an 8-year-old boy approaches a bridge pier in the city's Jiaxian County, a loudspeaker warns that "you have entered dangerous waters, many have drowned here, please leave immediately. I have sent the information to the phones of your parents and teachers."
The city's education department and a company jointly began the face-recognition swimming safety solution.
As part of the systen, an HD spherical camera was hung on the bridge's central pier to monitor a radius of 200 meters. Seven other cameras installed along the bridge can capture the facial information of visitors and use a database to verify student identity. Once someone comes close to the water, the high-pitched speaker will immediately issue a warning.
Technician Wang Chunjia said the face recognition system is over 97 pct accurate and when the second warning is issued, it also sends information, including photos and geographical location of a student, to parents and teachers.
An official with the city's education department said the system used in cooperation with human patrolling can effectively reduce the number of drownings.
The system's face database now covers more than 110,000 students in 81 primary and secondary schools. It is expected to be expanded next year to cover 120 dangerous water areas in the city's four counties and districts.