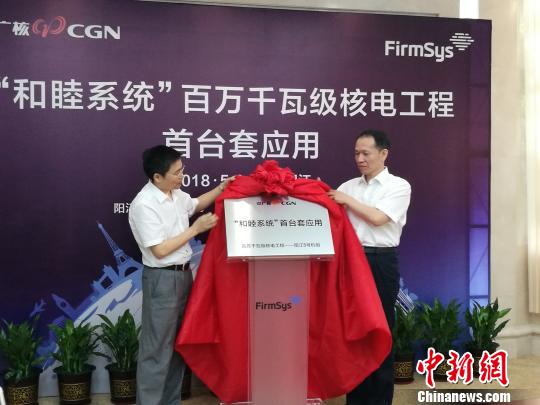 China's first domestic proprietary distributed control system (DCS) is unveiled on May 22, 2018. (Photo/China News Service)
(ECNS) - China's first domestic proprietary distributed control system (DCS), known as FirmSys, has been applied in the No. 5 generating unit of the Yangjiang nuclear power station.
Nuclear-grade DCS is regarded as the central nerve system for a nuclear plant, playing a critical role in ensuring the safety, reliability and stability of operations.
The nuclear-grade DCS that can safely shut down nuclear reactors and mitigate the consequences of accidents was once a technology mastered by only a small number of developed countries, leaving China to long rely on the import of such systems.
The application of the homegrown DCS platform in the No. 5 unit, operated by China General Nuclear Power Corporation (CGNPC), marked a milestone in China's nuclear power technology development as its first gigawatt-level nuclear power unit to be equipped with a 100 percent domestically developed and manufactured DCS platform.
Jiang Guojin, general manager of China Techenergy Co., Ltd., said FirmSys researchers have overcome world-class technical difficulties in developing the fully indigenous platform.
The system was delivered to the No. 5 unit in November 2016 and has passed many important tests since, displaying sound performance, said Jiang Dajin, general manager of Yangjiang station.
FirmSys will also be used in other newly-constructed gigawatt-level nuclear units, with an aim to save nearly 3 billion yuan in the construction of nuclear power plants.