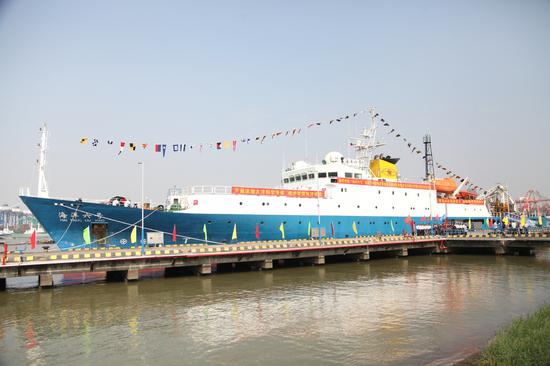 Chinese scientific research ship Haiyang 6 returns to Guangzhou, Guangdong province, after completing its deep sea exploration on Oct 23, 2019. (Photo/Xinhua)
China will pay more attention to the research and development of techniques and equipment used for deep-sea mining, according to a senior researcher in the country's shipbuilding industry.
"Deep-sea mining has become a new frontier for international competition in science, technology, resources and industries, because there are a lot of polymetallic nodules on ocean floors that contain rich concentrations of nickel, copper, manganese and cobalt, which are essential to the renewable energy industry," said Ye Cong, deputy director of the China Ship Scientific Research Center in Wuxi, Jiangsu province.
"A large proportion of these metals, which are extensively used in Chinese factories, need to be imported. Mining them from the seabed will help us reduce the heavy reliance on foreign suppliers," said Ye, who is a member of the 14th National Committee of the Chinese People's Political Consultative Conference.
Some Western nations have mastered key technologies and the capability of manufacturing major hardware required in deep-sea mining, and at least one company in the countries has launched experimental commercial mining operations expected to retrieve thousands of metric tons of ores each day.
However, China lags behind in terms of knowledge, technology and hardware, which highlights the importance of government attention and investment.
"We are facing several difficulties and challenges. First, it is hard to bring the ores from a depth of several thousand meters. We need a reliable, powerful system consisting of pumps and tubes that can bring the mixture of seawater and extracted ores to ships," he said.
"Second, we must thoroughly study the possible impact on deep-sea ecosystems and make sure that our solution can protect the marine environment and biodiversity. We also need to figure out an economical, sustainable approach to mining from ocean floors, or we won't be able to afford it."
Ye's center, a subsidiary of the State-owned conglomerate China State Shipbuilding Corp, is known for its deep-sea submersibles such as the Jiaolong, or Sea Dragon, and the Shenhai Yongshi, or Deep-Sea Warrior.
According to Ye, previous scientific dives by the Jiaolong and Shenhai Yongshi have enabled researchers to carry out some preparatory work for deep-sea mining.
Hu Zhen, a senior researcher at the Wuxi center and also a member of the 14th CPPCC National Committee, said that exploration and development of oceans have become a significant topic of science and technology and are closely related to safeguarding a nation's marine interests and international status.
He urged the government to speed up its review and approval procedures for major deep-sea hardware's research and development.
Ye and Hu made their remarks on the sidelines of the first session of the 14th CPPCC National Committee, which closed in Beijing on Saturday.