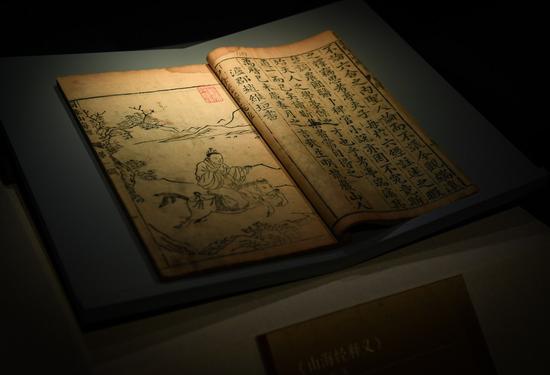 An ancient book is exhibited at Shenzhen Museum in Shenzhen, south China's Guangdong Province, Nov. 28, 2020. A total of 124 sets of rare ancient books were displayed at the exhibition. (Xinhua/Mao Siqian)
Two databases for the dissemination and study of ancient books were released in the National Library of China in Beijing on Wednesday, boosting cultural resource utilization with advanced technology.
Co-developed by the National Library of China and the Research Center for Digital Humanities of Peking University, both The Yongle Canon HD Images Database and the Knowledge Base of National Rare Ancient Book Directory are now freely accessible to the public for reference.
The Yongle Canon HD Images Database aims to facilitate public dissemination and professional study of the great ancient encyclopedia, "Yongle Dadian," which was commissioned by Emperor Yongle in 1403.
Based on the high-definition images, the database adopts the GIS techniques and three-dimension restoration techniques to vividly display the binding and layout of the encyclopedia, as well as the whereabouts of the existing volumes, according to Wei Chong, director of the National Library of China Publishing House.
The Knowledge Base of the National Rare Ancient Book Directory collects the catalogs of the ancient books on the directory, together with a large number of images and captions.
The knowledge base offers a visual display of the catalogs using digital technologies, including mapping knowledge domains and GIS techniques, through which readers may have a clearer view of the geographical distribution of the ancient books and complex relations among characters.