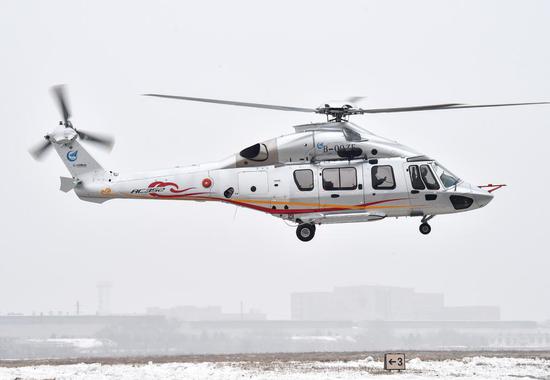 Photo taken on Dec. 20, 2016 shows the AC352 civil helicopter during its maiden flight in Harbin, northeast China's Heilongjiang Province. (Xinhua/Li He)
The China-developed AC352 mid-sized utility helicopter has completed the flight test phase of the airworthiness certification process, the Aviation Industry Corporation of China (AVIC) announced Thursday.
The AC352 helicopter on Thursday completed the last subject in the airworthiness certification process of the civil aviation authorities, said the AVIC, China's leading aircraft maker.
It signified that the AC352 helicopter model has entered the final phase before gaining the airworthiness certification, the AVIC added.
The AC352 helicopter's flight test included 87 subjects, such as take-off and landing, level flight, climb performance, as well as stability and low-speed operation, among others, as required by the civil aviation authorities to verify the new helicopter model's diverse performance, with a total test duration of 37.25 flight hours.
Civil aviation authorities have systematically evaluated its performance, control quality and the working conditions of its onboard facilities, the AVIC said.
In the next step, the AC352 will carry out other flight tests to further verify its diverse functions and reliability, according to the AVIC.
Developed by AVIC Harbin Aircraft Industry, the AC352 is a mid-sized twin-engine utility helicopter. It can carry up to 16 passengers with a 7.5-tonne maximum take-off weight.
The AC352 successfully conducted its maiden flight on Dec. 20, 2016, in Harbin, northeast China's Heilongjiang Province.
It began its flight-test journey for airworthiness certification at the end of 2019. The performance of this model was fully verified during previous flight tests in high temperatures, low temperatures, sub-plateaus and other complicated environments across the country, the AVIC said.
The AC352 enriches the pedigree of China's civil helicopter family in the 7-tonne class, the developer said.