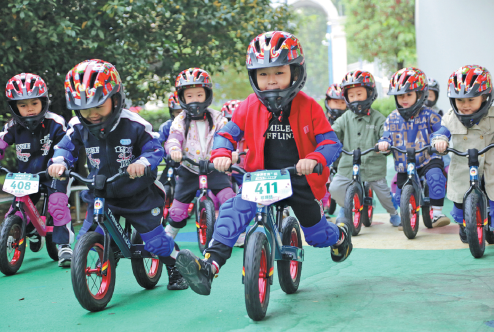 Children at a kindergarten in Lianyungang, Jiangsu province, use balance bikes to exercise in last October. (China Daily/Wang Chun)
Kindergartens should not be evaluated based on pupils' cognitive abilities and development levels, according to a guideline issued by the Ministry of Education on Tuesday.
The guideline came as the ministry reiterated the need to ban academic teaching and learning at kindergartens, stressing that the main activity at kindergartens should be playing games.
Kindergartens need to make physical exercise plans suitable for pupils and make sure they can have more than two hours of outdoor activities every day, it said.
They should conduct self-evaluations every semester, and county-level education authorities should evaluate all kindergartens under their jurisdiction every three to five years, the guideline said.
An official from the ministry's department of basic education said that unlike students in primary and secondary schools, who undergo systematic academic learning, kindergartners learn from daily activities and playing games.
Kindergartens should support and guide pupils to become better based on their own abilities, the official said, adding that to prevent intensive training of children and anxiety among parents, no direct examination of pupils' abilities and development levels should be allowed.
The new evaluation guideline joins a set of evaluation guidelines for primary, middle and high schools issued last year to transform the exam-oriented education system and promote the all-around development of students.
The guidelines aim to put less emphasis on students' academic performance and more on their everyday behavior and development of nonacademic skills.
However, not all parents approve of the removal of academic teaching at kindergartens.
Chen Bolin, the father of two kindergartners in Beijing, said that since his children's kindergarten does not teach any academic courses, he has taken on the responsibility of teaching them basic Chinese characters and simple mathematics.
He has also signed them up for general interest courses such as Chinese calligraphy, painting and Go, a Chinese board game, he said.
"They need to learn basic knowledge sooner or later," he said. "When other pupils are learning it through different means, we do not want to be left behind."