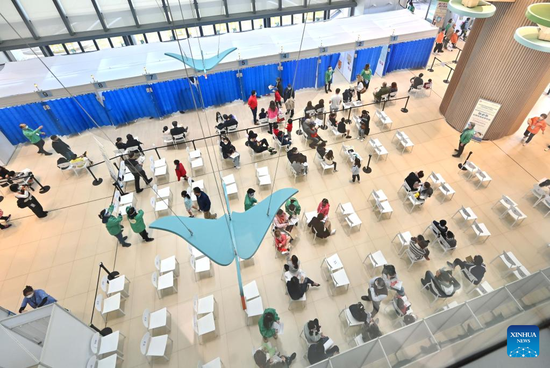 Children wait for receiving COVID-19 vaccines with their parents at a children community vaccination center in Hong Kong, Feb 16, 2022. Hong Kong registered 4,285 new cases of COVID-19 over the past 24 hours, according to data from the Center for Health Protection Wednesday. (Photo/Xinhua)
Special: Battle Against Novel Coronavirus
Major production bases in Guangdong Province that supply meats, vegetables and other agricultural products to Hong Kong are working around the clock to ensure adequate supplies for the city, which has been hit hard by COVID-19.
Zhong Yuhua, general manager of Guangzhou Ge Yun Food, said the company had stopped a production line that produced dim sum for the domestic market and arranged for more than 100 workers to produce food and related products for Hong Kong.
"The company has been understaffed since Spring Festival because many workers left in late January to spend the holidays at home, but production for Hong Kong has never been suspended," Zhong told a news conference in Guangzhou on Wednesday.
In addition to recruiting more workers, the company raised salaries and welfare for its workers to encourage them to stay and ensure production for Hong Kong remained intact, he said.
Located in Guangzhou's Baiyun district, Zhong's company is a major manufacturer of rice, noodles, meat, dim sum and seasoning products, with Hong Kong and Macao being key markets.
Zeng Xianjun, deputy general manager at Guangzhou Kwangfeng Industrial, said his company purchased chicks several months in advance to ensure that supplies of chickens to Hong Kong were adequate during Spring Festival, a peak time for chicken sales.
"To solve the shortage of manpower, many of the company's management, logistics and business personnel were sent to the front-line workshops and slaughterhouses during the holidays to ensure production for Hong Kong would not be affected," he said.
In Shenzhen, the supply of food and related products for Hong Kong was adequate and prices remained stable, a senior official said.
"More than 300 trucks carrying vegetables, meats, eggs and related non-staple food leave ports in Shenzhen for Hong Kong every day," said Chi Weiguo, deputy director of Shenzhen's commerce bureau.
About 2,600 live pigs are being sold to Hong Kong daily through Wenjindu port alone, Chi said at a news conference earlier this week. At the moment, supplies of meat, vegetables and related materials for Hong Kong from the mainland can guarantee daily needs, he added.
According to statistics released by Guangzhou customs, customs officers have completed inspection and quarantine of 8,923 metric tons of frozen meats, 1,276.5 tons of dairy products, 316 tons of fresh vegetables, and 42,465 live pigs shipped to Hong Kong since January.
Ou Jiepeng, an officer from Conghua customs in Guangzhou's Conghua district, said officers are working extra shifts to inspect and quarantine products shipped to Hong Kong to ensure food supplies.
Hu Xiannian, a senior executive with Guangdong's Tinoo's Foods Group, said the chilled chicken and other products supplied to Hong Kong by his company are fresh and safe thanks to inspections and quarantine.
Hong Kong reported 4,285 new COVID-19 cases on Wednesday, its highest ever daily tally.