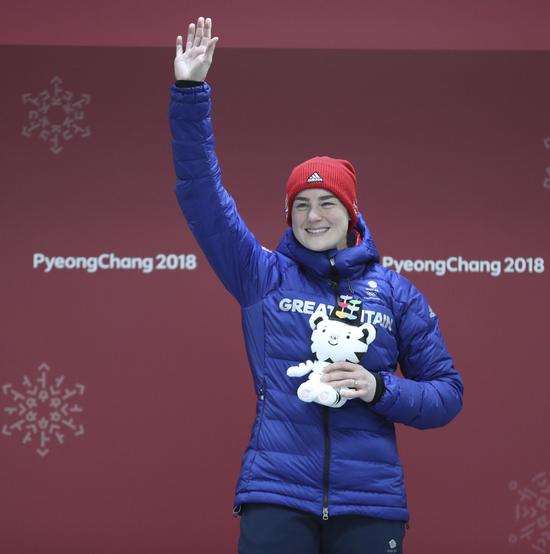 Britain's Laura Deas celebrates during venue ceremony of women event of skeleton at 2018 Winter Olympic Games at Olympic Sliding Centre, PyeongChang, South Korea, Feb. 17, 2018. Laura Deas claimed bronze in a time of 3:27.90. (Xinhua/Bai Xuefei)
Special: Battle Against Novel Coronavirus
Olympic medalist Laura Deas will lead three Olympic debutants in skeleton to represent Britain to compete at the Beijing 2022 Olympic Winter Games.
The British Olympic Association (BOA) announced on Wednesday that Deas as well as Brogan Crowley, Matt Weston, Marcus Wyatt have been selected as the four skeleton athletes to compete at Beijing 2022.
Deas, 33, is the most experienced member of the team. She won a bronze medal at the PyeongChang Olympic Winter Games four years ago while teammate Lizzy Yarnold defended her title.
"Being selected for a second Olympic Games feels like a huge honor and it's something I've worked incredibly hard to achieve," said Deas.
Deas and the 27-year-old Crowley will take part in the women's event while Weston and Wyatt will compete in the men's race.
"I still can't believe it's real! Being selected to not only go to an Olympics but be aiming for medals is a dream I have had since I can remember," said the 24-year-old Weston who won a World Cup gold medal in Innsbruck last November and was previously a silver medallist at the same venue in December 2020.
"I can't wait to head back out to the best track I've raced on this season and enjoy every moment," added Weston.
Wyatt is also expecting to bring home a medal in his Olympic debut. The 30-year-old finished second in the Olympic Test Event in Beijing last October.
"Winning silver in the Test Event in October really gives me confidence I can go and do similar again this time at the main event," said the former American football player.
"We head to Beijing with a young team in terms of sliding experience but we're all excited to see the athletes compete on a challenging track where we hope to follow on from our success in the test event back in October," said British Skeleton Performance Director Natalie Dunman.