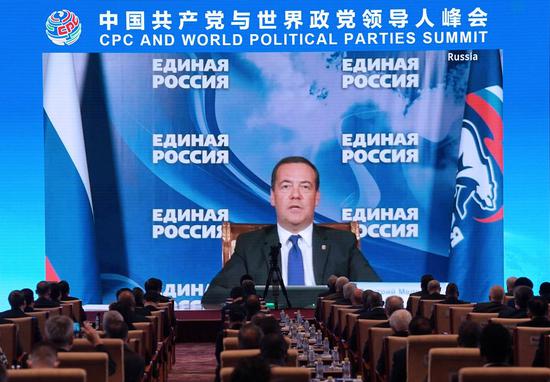 Dmitry Medvedev, chairman of the United Russia party and deputy chairman of the Russian Security Council, addresses the Communist Party of China (CPC) and World Political Parties Summit on July 6, 2021. (Xinhua/Cai Yang)
Xi Jinping, general secretary of the Communist Party of China Central Committee, sent a message on Wednesday congratulating the United Russia party on the 20th anniversary of its founding.
In the message, Xi, who is also the Chinese president, said that United Russia, as an important political force in the country, has been actively committed to uniting and guiding the Russian people to put into place Russian President Vladimir Putin's strategic policies.
The party has helped Russia realize political stability, develop its economy, improve people's well-being and enhance its international status, thus winning wide support from Russian society, Xi said.
As this year also marks the 20th anniversary of the establishment of relations between the CPC and United Russia, Xi said that over the past two decades, the two parties have continuously developed their relations.
The CPC and United Russia have played a unique role in terms of implementing the consensus between heads of state, consolidating political and strategic mutual trust between the two countries, promoting all-around mutually beneficial cooperation and deepening the two countries' strategic coordination, he said.
Xi said that the CPC cherishes its friendship with United Russia and hopes that the two parties can continue to strengthen institutionalized exchanges and cooperation and contribute their wisdom and strength to take China-Russia relations to a higher level and jointly build a community with a shared future for mankind.