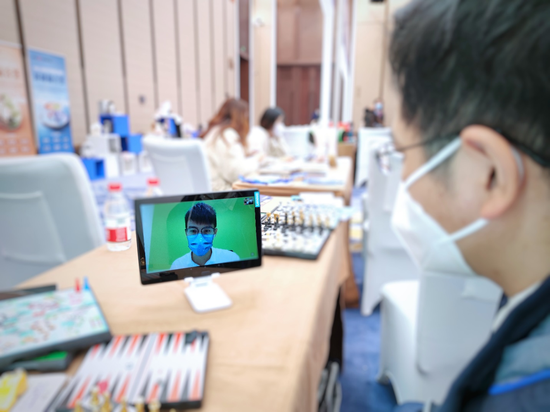 A foreign trade specialist interfaces with an overseas purchaser about online procurement. (Photo: chinadaily.com.cn/Liu Tianyang)
Shrugging off the impact of the COVID-19 outbreak, 65 overseas buyers from 20 countries including France, Germany, Brazil, and the United States signed up for the East China Fair (ECF) Exhibitors Online Global Trade Fair led off on Nov 26.
Being known as the bellwether of foreign trade, ECF is the largest regional trade fair in China with the most traders, a great variety of exhibits, and the most onsite deals.
As the COVID-19 becomes a new normal, online purchases befit the trend of foreign enterprises' trade and investment in China.
"In the case of rising sea freight, the quality of our export products has been greatly improved. We have adjusted the raw materials and product mix and our new mercury-free battery is well-liked in the overseas market. We are delighted to see an increase in the export quantity to European and American countries," said Huyu Ma, assistant director of Marketing Center at Shanghai White Elephant Swan Battery Co Ltd.
"This is our very first time to go in for the ECF. ECF can not merely meet our needs for traditional foreign trade markets but also extend our sales to Japan, South Korea, Europe, the US and Southeast Asian countries," Ma added.
Teaming up with the Industrial and Commercial Bank of China (ICBC) for the first time, ECF helps domestic and foreign merchants to directly connect online, effectively shortening the flow path for international trade consultation, negotiation, and trial order.
"Although this is the first time for ICBC to cooperate with ECF, we have been convening this type of global trade fair for two years. More than 200 rounds of talks for nearly 100 enterprises, bridging for cross-border trade in the post-pandemic era," Wang Shun, deputy governor of the ICBC Shanghai Branch.
The ECF and ICBC Shanghai Branch signed the memorandum of cooperation to help consolidate the global industrial chain and broaden international trade cooperation channels for domestic enterprises.