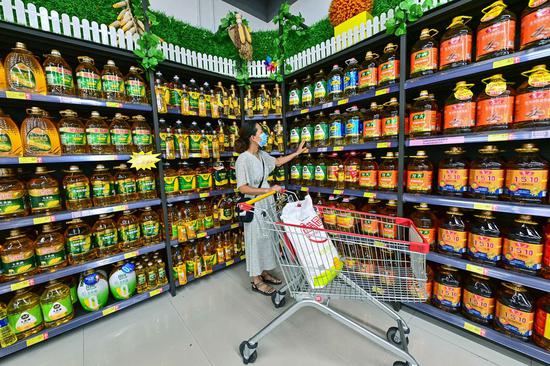 A customer buys edible oil at a supermarket in Qingzhou, East China's Shandong province, Aug 9, 2021. (Photo/Xinhua)
China's economy performed better than expected in October as retail sales climbed and energy shortages eased, Bloomberg reported.
According to the National Bureau of Statistics, the country's retail sales of consumer goods increased 4.9 percent year-on-year to 4.05 trillion yuan ($633 billion) in October.
The figure increased by 9.4 percent from October 2019, putting the two-year average growth at 4.6 percent. In the January-October period, China's total retail sales of consumer goods stood at 35.85 trillion yuan, up 14.9 percent year-on-year.
China's industrial production also continued to expand in October, with the high-tech manufacturing sector posting strong performance, official data showed.
China's value-added industrial output, an important economic indicator, went up 3.5 percent year-on-year in October, putting the average October growth for the past two years at 5.2 percent.
"Overall there is some improvement, especially in the mining and utility industries," Bloomberg said quoting Lu Ting, chief China economist for Nomura Holdings Inc. Electricity shortage also eased last month, with power supply climbing 11.1 percent in October from a year earlier.
Also on Monday, the Beijing Stock Exchange formally opened for trading, marking a key step in China's efforts to deepen capital market reform and support small businesses.
The launch came two months after an announcement of the plan for a new stock exchange, in addition to the two existing bourses on the Chinese mainland -- in Shanghai and Shenzhen.
The newest exchange could be important for cultivating startups with high growth potential and advanced technology, the Wall Street Journal said quoting Chris Liu, a senior portfolio manager at Invesco who focuses on onshore Chinese investment.