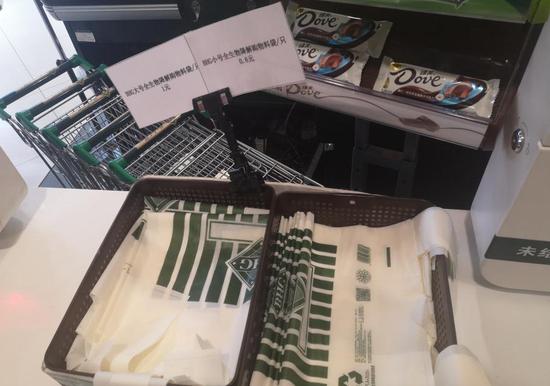 Degradable bags are offered at a supermarket in Nanjing, East China's Jiangsu province, Jan 11, 2021. (Photo/Xinhua)
With wide-ranging measures to minimize plastic waste and enhance recycling, China aims to effectively control the leakage of such refuse into nature and curb white pollution by 2025, according to a guideline unveiled on Wednesday.
Aside from sharply cutting the use of disposable plastic products and boosting recycling efforts, the country will strive to prevent plastic waste from ending up in landfills, according to the document, which was jointly issued by the National Development and Reform Commission and the Ministry of Ecology and Environment.
Meanwhile, to make plastic more recyclable, the Ministry of Industry and Information Technology will hammer out a green design standard that aims to reduce the complexity of plastic components.
In addition, a series of measures will be rolled out in the e-commerce and express delivery sectors. With a recommended directory for products with green packaging, the country plans to essentially wipe out secondary packaging in the two sectors.
Recyclable packaging will also be promoted. By 2025, the number of recyclable parcel packages across the country is expected to reach 10 million.
The country will support the construction of plastic recycling projects and endeavor to concentrate such facilities into industrial parks specifically for recycling.
Considering the environmental impact of plastic goods, China will make efforts to further improve quality and food safety standards for substitutes, including bamboo, wood, paper and degradable plastics.
As a way to intensify the country's capability in disposing plastic waste in a harmless manner, China will energetically support the construction of incinerating facilities for domestic waste.
No new landfills will be allowed to be built in cities above prefecture-level as long as those cities are able to build incinerators or already have such facilities.
The document also vows to ramp up efforts to clean up plastic waste both in inland water bodies and the ocean. Plastic waste and microplastics that have infiltrated seas will be monitored, and the sources of the pollutions will be investigated.