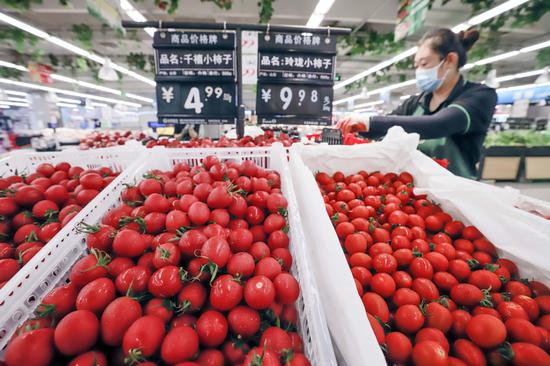 A worker arranges fruits in a supermarket in Zunhua, Hebei province on Aug 17, 2021. (Photo/Xinhua)
The Chinese economy kept up its recovery last month, but domestic COVID-19 cases and natural disasters in some parts of the country have affected economic performance, the National Bureau of Statistics said on Wednesday.
"The foundation of economic recovery still needs to be consolidated," the NBS said in a statement.
The country must effectively implement macro policies for cross-cycle adjustments, consolidate the achievements of coordinating epidemic control and economic development, and keep the economy within a reasonable range, the statement said.
Industrial output, a key economic indicator, rose by 5.3 percent year-on-year in August, down from 6.4 percent in July and sending the two-year average growth to 5.4 percent in August, the NBS said.
Retail sales grew by 2.5 percent on a yearly basis last month, compared with 8.5 percent in July. On the two-year average basis, retail sales expanded by 1.5 percent in August, the bureau said.
The growth in fixed-asset investment (excluding rural households) came in at 8.9 percent year-on-year during the January-August period, compared with 10.3 percent in the first seven months of the year. The two-year average growth in fixed-asset investment reached 4.0 percent in the January-August period.
The surveyed urban jobless rate came in at 5.1 percent in August, the same with July, the NBS said.