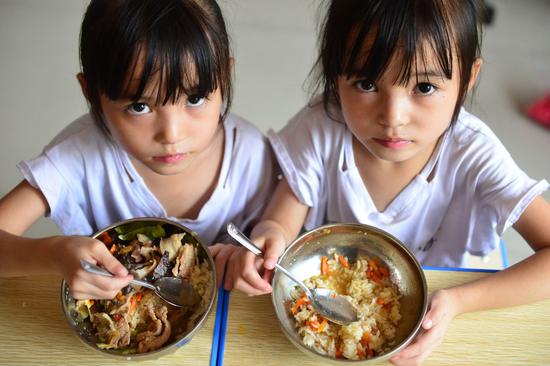 File photo taken in 2017 shows twin girls Liu Yuting (R) and Liu Yuyao take free lunch at the No. 4 Primary School in southwest China's Guizhou Province. Free lunch project has improved diets of rural students in Guizhou since 2012. The nutritious lunches helped address malnutrition among students in remote and poor areas. (Xinhua/Yang Wenbin)
The chair of UNITLIFE, the United Nations (UN) initiative fighting chronic malnutrition through innovation, has said that China plays a leading role in tackling this global problem.
"China has made great achievements in fighting chronic malnutrition over the past 40 years, and China's prevalence of the stunting rate of children under the age of five is 4.8 percent, which is considered low, according to UNICEF data. This is absolutely terrific," Philippe Douste-Blazy told Xinhua in a recent interview.
"China is an example. The country has succeeded in being one of the leading nations of the world," Douste-Blazy, who is a former minister of foreign affairs and health minister of France and served as under secretary-general and special advisor on innovative financing at the UN, said.
"We want people in China and beyond to be aware of chronic malnutrition and the danger it presents for our future. This is an invisible condition," he added.
CLOSING INVESTMENT GAP
Based in Paris, UNITLIFE was created by the UN Capital Development Fund and UN Women. It seeks to close the investment gap by raising funding through innovative partnerships with private sector players and direct citizen contributions.
Chronic malnutrition affects 149 million children globally, limiting their health and prosperity, according to UNITLIFE.
"In 2020, 53 percent of all children under five affected by chronic malnutrition lived in Asia, and 41 percent lived in Africa. In other words, over one in two Asian children, and over one in three African children do not eat a diet that meets their nutrient needs during the first 1,000 days of their lives," the chair stressed.
"As a result, they face lifelong consequences, affecting their physical growth, cognitive development and immune systems."
UNITLIFE mainly finances nutritious food systems and invests in women's empowerment and climate-smart agriculture.
"We fund projects which focus on resolving the bottlenecks on each step of the food chain," Douste-Blazy said, noting UNITLIFE aims to mobilize 100 million U.S. dollars in the next five years to provide 1.5 million mothers and children with access to nutritious foods around the world.
KEY EVENTS
The UN Food Systems Summit will be held during the UN General Assembly in New York later this month. It aims to set the stage for global food systems transformation to achieve the Sustainable Development Goals (SDGs) by 2030.
"For me, this is a historic opportunity to empower all people to leverage the power of food systems to drive our recovery from the COVID-19 pandemic. I think that it is possible to get us back on track to achieve all 17 SDGs by 2030," Douste-Blazy told Xinhua.
"It comes at a critical time midway through the UN Decade of Action on Nutrition, with only five years left to achieve the World Health Assembly targets on maternal, infant and young child nutrition and ten years to reach definitively the SDGs," he said.
Later in the year, the Nutrition for Growth Summit will take place on Dec. 7 and 8 in Tokyo, Japan, bringing together stakeholders to announce final financial and policy commitments and chart the path toward 2030.
"Both international events are major ones, because they represent opportunities for us to put more emphasis on malnutrition, and particularly on chronic malnutrition," he said.