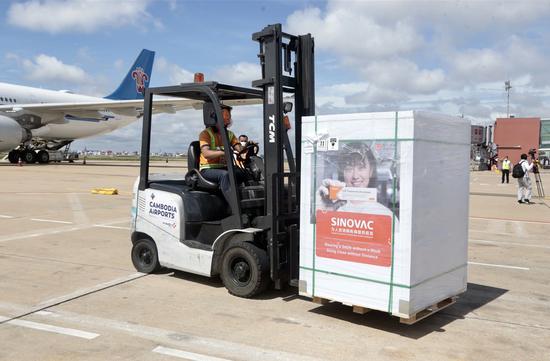 An airport worker transports packages of Chinese COVID-19 vaccine at the Phnom Penh International Airport in Phnom Penh, Cambodia on July 10, 2021. (Photo by Phearum/Xinhua)
Special: Battle Against Novel Coronavirus
Two Chinese COVID-19 vaccine producers will immediately begin supplying 110 million doses to COVAX-a global vaccine-sharing initiative-in a bid to address critical gaps in vaccine distribution worldwide, the Gavi Vaccine Alliance said in a statement on Monday.
By the first half of 2022, the two companies will supply a potential total of 550 million doses to COVAX, according to the statement.
Gavi, which is based in Geneva, Switzerland, and is one of the international organizations leading the COVAX initiative, said it had recently signed agreements with State-owned Sinopharm and Sinovac Biotech.
Each company has developed an inactivated COVID-19 vaccine that has been authorized for emergency use by the World Health Organization, the first step for a vaccine product to be eligible for COVAX.
Sinopharm will supply 60 million doses to COVAX from July through October, according to the statement, and Gavi has the right to order another 60 million doses in the fourth quarter and 50 million more in the first half of next year.
Sinovac will supply 50 million doses from July through September, and Gavi could also buy another 150 million doses in the fourth quarter and another 180 million doses in the first half of next year.
"The addition of the Sinopharm and Sinovac vaccines further diversifies the Gavi-managed COVAX Facility portfolio, which now includes 11 vaccines and vaccine candidates," Gavi said.
It added that the new deals have come at a time when emerging variants are posing mounting risks to global health systems and there are immediate and severe gaps in global vaccine supply.
Liu Peicheng, a Sinovac Biotech spokesman, said the company has completed production of one batch of vaccines allocated to COVAX and will supply it this month.
"Our earliest production lines have passed the examinations of the WHO, and we have handed in applications for other manufacturing lines," he said. "Once we gain the approval, more production facilities can be used to provide vaccines for COVAX."
Sinopharm said on Monday that its second production line, which is awaiting approval from the WHO and is capable of making 1 billion doses annually, will be entirely committed to supplying COVAX.
In addition to collaborating with COVAX to help promote global vaccine equity, China had made direct donations to 100 countries and sold vaccines to over 50 countries by the end of last month. In total, the country had supplied 500 million doses of vaccines and vaccine concentrates overseas, according to authorities.