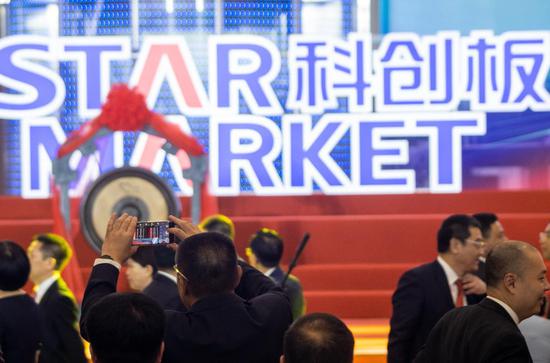 An attendee takes a snapshot at the launch ceremony of the STAR Market in Shanghai. (Photo by Wu Jun/For China Daily)
China Securities Regulatory Commission announced on Friday the revision of the evaluation measures for public technology and innovation companies, aiming to increase the quality of the companies listed on the STAR Market at the Shanghai Stock Exchange.
Li Weiyou, deputy head of CSRC's public offering review committee, said at a news conference on Friday that the revision requires that research staff should take up 10 percent of the headcount of a STAR Market company. A negative list mechanism will be introduced. The mechanisms for think tanks as well as soliciting opinions shall be further optimized to support supervision. While reviewing listing materials, the exchange should check the objectivity of the issuer's self-evaluation and give more scrutiny over intermediaries' due diligence.
Meanwhile, there should be a clear definition of the industries eligible for the STAR Market. Hard technology companies specializing in the six major industries such as information technology and high-end equipment will be supported to float on the STAR Market, said Li.
For companies specializing in the innovation of fintech business models, strict revisions will be conducted over their technology innovation capability and results so that there will be a limited number of such companies listed on the STAR Market, said Li. Property developers and companies with prime operations in financial investment are forbidden to go public on the STAR Market.
The technology consulting committee of the exchange should play a bigger role, said Li. Comprehensive evaluation should be carried out to avoid low quality research and development or hasty purchases of patents.