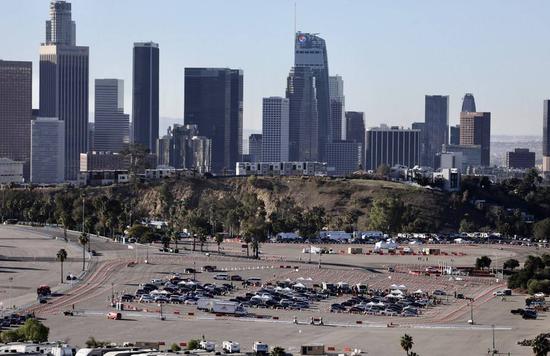 Motorists line up to receive inoculation at a COVID-19 vaccination site at Dodger Stadium in Los Angeles, California, the United States, Jan. 15, 2021. (Photo/Xinhua)
Special: Battle Against Novel Coronavirus
A research project led by the University of California, Los Angeles (UCLA) found that neighborhoods in Los Angeles County with poor air quality had the highest death rates from the coronavirus.
The paper, titled "Spatial Analysis of COVID-19 and Traffic-Related Air Pollution in Los Angeles" from the Fielding School of Public Health, was scheduled to be published in the August edition of the peer-reviewed journal Environment International, and is now available online.
Michael Jerrett, a professor of environmental health sciences at the school and the project's leader, was quoted by the local NBC4 news channel as saying that the findings implied a potentially large association between exposure to air pollution and population-level rates of COVID-19 cases and deaths.
"These findings are especially important for targeting interventions aimed at limiting the impact of COVID-19 in polluted communities," he said.
The research said recent evidence from China, Italy, England, and the United States suggested that exposure to air pollution may play a role in COVID-19 incidence and deaths, and such phenomenon could be explained by two factors.
On one hand, "air pollution, including traffic-related air pollution (TRAP), is associated with many respiratory morbidities," the paper read. "Nitrogen dioxide (NO2), a tracer of TRAP generated from tailpipe emissions, has been found to impair the function of alveolar macrophages and epithelial cells, thereby increasing the risk of lung infections."
On the other hand, age, race or ethnicity, and other sociodemographic characteristics appeared to impact COVID-19 infection rates, severity, and associated deaths as well, the paper emphasized, noting one example of the findings: Los Angeles County neighborhoods with the worst air quality saw a 60 percent increase in COVID-19 fatalities, compared with communities with the best air quality.
"Compared to non-Hispanic whites, cumulative COVID-19 hospitalization rates for Black and Latinx populations are approximately 4.7 and 4.6 times higher in the U.S., respectively." it said, adding black and Latinx populations are disproportionately exposed to the fatal disease because they are more likely to serve as essential workers, have a higher prevalence of metabolic disorders and are more likely to live in areas where there is greater air pollution.
"In the U.S., more polluted communities often have lower incomes and higher proportions of Black and Latinx people," co-author Jonah M. Lipsitt, a researcher with the Fielding School's UCLA Center for Healthy Climate Solutions, told NBC4. Enditem