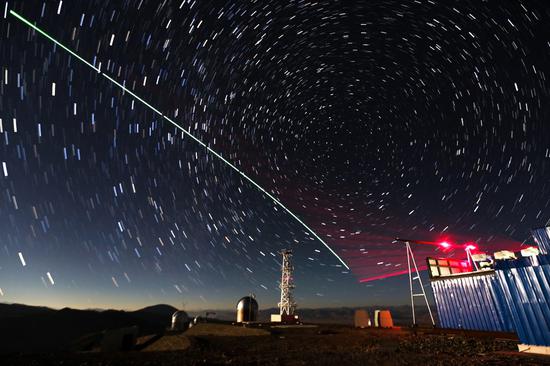 Composite photo taken on Dec 9, 2016 shows a satellite-to-earth link established between quantum satellite "Micius" and the quantum teleportation experiment platform in Ali, Southwest China's Tibet autonomous region. [Photo/Xinhua]
Scientists encouraged to make more original innovations, breakthroughs
President Xi Jinping has stressed that China will advance the development of quantum science and technology with more strategic planning, supportive policies and investment, with the aim of fostering a favorable environment for basic research, innovation, talent training and commercialization in this field.
During a group study session of the Political Bureau of the Communist Party of China Central Committee held on Friday, Xi, who is also general secretary of the CPC Central Committee and chairman of the Central Military Commission, said quantum science and technology is at the forefront of a new round of sci-tech and industrial revolutions.
As a result, developing quantum science and technology is of great scientific and strategic significance, he said.
China's scientific and technological workers have made great efforts to catch up in quantum science and technology and have made a number of significant innovations with international influence. On the whole, China possesses strength in terms of science and technology and innovative abilities in this field, Xi said.
However, China's quantum science and technology development still has many weak links and faces multiple challenges, he said, calling for efforts to follow the path of independent innovation, make breakthroughs in key core technologies, ensure the safety of industrial and supply chains and enhance the ability to respond to international risks and challenges.
It is imperative to systematically sum up the successful experience of China's quantum science and technology development, learn from the useful practices of other countries, thoroughly analyze and judge the development trends, and find the breakthrough point for the development of quantum science and technology in China, Xi said.
He advocated more strategic planning, policy support and investment in quantum science and technology. Training more quality talents, granting scientists more resources and autonomy and enhancing international cooperation are also important for the development of this field, he added.
Quantum science and technology is the study and application of the physical properties of matter at the scale of atoms and particles. The foundational theory of quantum physics is quantum mechanics, and the current three major applications of quantum physics are quantum communication, quantum computing and quantum precision measurement.
For decades, scientists have believed that harnessing the bizarre phenomena of quantum mechanics could lead to ultra-secure communication for political, economic and military use.
It can also lead to the creation of ultrapowerful computers that can simulate extremely complex models, allowing new discoveries in fields ranging from medicine to material sciences, as well as greatly improving the accuracy of weather and financial forecasting and the efficiency of machine learning and artificial intelligence.
Chen Yu'ao, a quantum physics professor at the University of Science and Technology of China, said he was greatly encouraged by Xi's speech, which showcased that China is attaching immense significance to this cutting-edge field which is critical for promoting high-quality development and safeguarding national security.
"We are also excited to see support for industrializing and commercializing our basic research into new applications," Chen said.