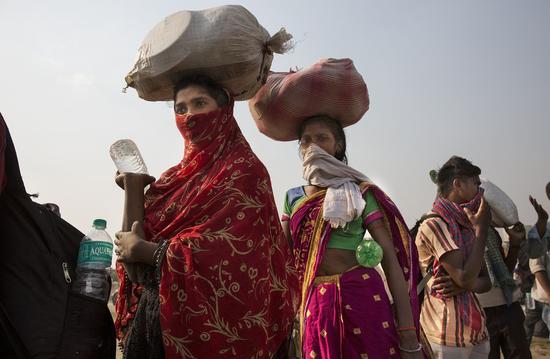 Stranded migrant workers line up to board buses heading for their hometowns during extended lockdown to curb COVID-19 in Ghaziabad, India, May 18, 2020. (Xinhua/Javed Dar)
Special: Battle Against Novel Coronavirus
India's federal health ministry said Friday morning that 148 new deaths due to COVID-19, besides fresh 6,088 positive cases, were reported since Thursday in the country, taking the number of deaths to 3,583 and total cases to 118,447.
This is the highest one-day spike in COVID-19 cases so far in the country, showed the data.
On Thursday morning, the number of COVID-19 cases in the country was 112,359, and the death toll was 3,435.
According to ministry officials, 48,534 people have been discharged from hospitals after showing improvement, and the number of active cases in the country right now stands at 66,330.
Friday marks the 59th straight day of the ongoing lockdown across the country announced by the government to contain the spread of the pandemic.
The lockdown, announced on March 25, was again extended last week till May 31.