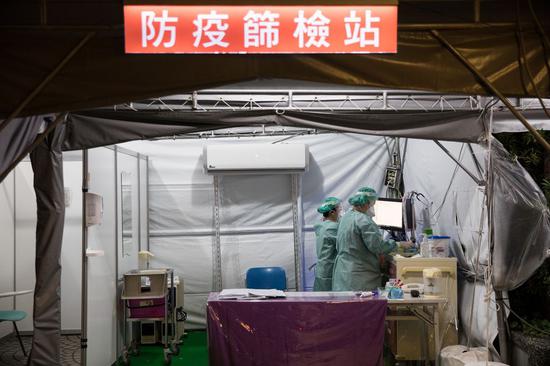 Medical workers are busy at the screening station for possible COVID-19 cases at a hospital in Taipei, southeast China's Taiwan, March 30, 2020. (Xinhua/Jin Liwang)
One-China principle must be observed when handling affairs related to Taiwan's participation in events of international organizations, including the World Health Organization (WHO), said a mainland official Thursday.
The WHO is a specialized agency of the United Nations formed by sovereign states and it observes UN General Assembly resolutions, Ma Xiaoguang, spokesman for the State Council Taiwan Affairs Office, said, adding that World Health Assembly (WHA) Resolution 25.1 has reiterated UN General Assembly Resolution 2758, reflecting the one-China principle that the UN has been upholding.
There is only one China in the world and Taiwan is part of China, Ma said, stressing that there is no such issue of Taiwan joining the UN.
Taiwan's Democratic Progressive Party (DPP) stubbornly sticks to seeking "Taiwan independence" and refuses to recognize the 1992 Consensus, which embodies the one-China principle, Ma said, adding that such moves have damaged the political foundation for the island to participate in the WHA.
The DPP should bear the sole responsibility for this, Ma said.
The DPP has been taking advantage of the COVID-19 pandemic to hype up the WHA issue, which was born from political calculations instead of concerns for public health, said Ma.
He noted that some people in the United States brazenly supported Taiwan's participation in the WHO, which politicized pandemic prevention efforts and sent a gravely wrong signal to "Taiwan independence" forces.
"We firmly oppose such acts," he said.
Although the two sides of the Taiwan Strait have yet to be reunified, the sovereignty and territory of China have never been severed and the fact that the mainland and Taiwan belong to one and the same China has never changed, Ma stressed.