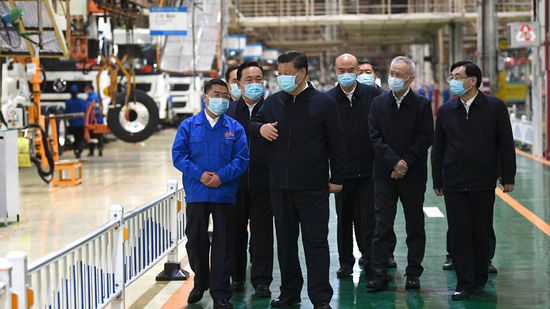 Chinese President Xi Jinping (3rd L) visits the Shaanxi Automobile Holding Group in Shaanxi Province, northwest China, April 22, 2020. /Xinhua
Calling state-owned enterprises (SOEs) the "key to resuming production," Chinese President Xi Jinping on Wednesday urged companies to innovate more so as to "turn challenges (brought by the coronavirus) into opportunities."
The economy has been hit by the coronavirus outbreak, which led to a shuttering of businesses and dampening of trade. According to latest official data, China's GDP contracted 6.8 percent year on year in the first quarter, the first decline in decades.
Since March, however, the epidemic situation in China has improved drastically thanks to the aggressive measures carried out by the government. Daily new confirmed cases have now dropped to single digits.
On a visit to Shaanxi Automobile Holding Group - the largest manufacturing SOE in northwest China - President Xi spoke highly of the company's work during the coronavirus outbreak, after inspecting some of its products and production lines.
"Your work during this period has not been affected by the epidemic, and most importantly, has reached the highest level of car manufacturing of all time. This should be praised," he said, before calling for more innovative ideas on operating modes and technology.
Shaanxi Automobile Holding Group is known for its leading position in manufacturing the country's military off-road vehicles. It has also successfully made a transition to manufacturing "low-carbon cars."
Xi's inspection tour in the province started on Monday with a visit to a National Nature Reserve spot, rural villages and local schools. Ecological preservation and poverty alleviation are among the top issues on his agenda.
Xi'an getting back on track
Xi also visited one of the busiest streets in Xi'an, Shaanxi's provincial capital, where life has been getting back on track.
He spoke with local business owners, most of whom reopened their businesses on February 21, about work resumption.
"President Xi's visit here encourages me," said Wang Wei, who works at the pedestrian street. "I have confidence that soon we will start to embrace the recovery of our food supply industry."
Great Tang All Day pedestrian street features elements from both the Tang Dynasty (roughly 1,400 years ago) and modern times. According to official data, the street welcomes as many as 840,000 people daily in peak times.
'We Chinese toughen up through difficulties'
Talking with faculty members and students at Xi'an Jiaotong University - one of the most prestigious educational institutions in China - President Xi lauded the "personal sacrifices" senior professors have made "for the interest of the country."
The university moved from Shanghai to Xi'an back in 1955 as part of a central government attempt to balance out inequality of higher education. That meant a lot to the development of China's western region and even to the whole country at large, Xi said.
He met with 14 faculty members who relocated from Shanghai with the university. "I was deeply moved by your letter, that struck a chord in me," he said, referring to a letter the veteran educators sent him two years ago in which they offered advice on how students could better serve the country.
Xi encouraged teachers and students at the university to remain true to their original aspirations, continue to draw inspiration from the relocation, pursue their careers in the most-needed parts of the country and pass on the "westward relocation spirit" from generation to generation.