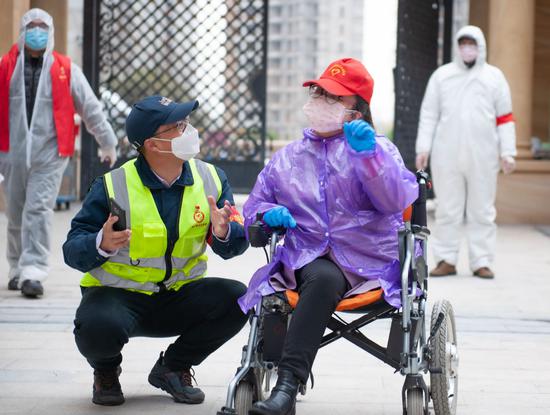 Du Chengcheng (in wheelchair) communicates with a volunteer as they deliver supplies to households at Jiangjiadun community in Wuhan, Hubei province, on March 1. (PHOTO/CHINA DAILY)
Special: Battle Against Novel Coronavirus
In the early morning of Jan 23, authorities in Wuhan, Hubei province, announced that the city would be put on lockdown in a few hours to halt the spread of the novel coronavirus epidemic, prompting many to rush to buy the last tickets out of the metropolis.
Public transportation was soon suspended, and private vehicles were banned from the road. The sick were stranded at home clamoring for health services.
And misinformation was rampant.
At the height of the outbreak, tens of thousands of community workers in Wuhan had been doing their utmost to combat rumors, helping to shuttle residents between homes and hospitals and buying necessities for families under home isolation, in an attempt to help people adapt to life during the national emergency.
Du Chengcheng, a one-legged woman in the city's Qingshan district, was one of them.
The 34-year-old recalled how her chat groups on messaging tool WeChat exploded with anxiety shortly after her hometown was sealed off. Social media posts flooded the screens falsely claiming smokers are immune to the virus and that eight novel coronavirus patients had escaped from a quarantine site.
"I can only describe the atmosphere as 'hyper'," said Du, a member of the Communist Party of China who started working on the job in 2007.
In the community, Du and 21 colleagues are overseeing 4,126 residents. Considering her walking difficulties, the neighborhood authorities assigned her to manage resident chat groups on messaging tool WeChat to handle complaints and dispel rumors.
On a regular day, she wakes up to work on her phone at 7 am, explaining to residents the basics of the contagion and necessary measures for precaution, such as washing hands, wearing face masks and avoiding crowds.
Du- who has a license to practice psychological consultation-also signed up for a nighttime service targeting anxious residents.
Starting at 7 pm, she chats with them online for hours, preparing to be drowned in complaints and ready to offer them comfort while correcting misinformation.
"Some kept thinking they had been exposed," she said. "I would regard the reactions as being anxious. They have been in home isolation and they need somewhere to let off steam."
Besides chatting with residents about their concerns, Du also discussed purchase plans for daily necessities with other community workers. As all Wuhan residents had been ordered to stay at home, the shopping was done by community workers and volunteers instead and then distributed to each household, creating a huge workload.
Du said her efforts were rewarded when she saw changes in resident's behaviors. On Feb 20, Wuhan recorded only 319 new infections-a significant drop-raising fears among community workers that people might let down their guard and step out of home isolation.
"But I was pleased to see the chat rooms have turned into places where people are encouraging one another to stay strong and to remain at home," she said.
Gradually, chat groups that had been inundated by rumors became a hub of supply distribution, with residents sending in their orders for government-subsidized vegetables, fruits and spices, and waiting for the goods to be delivered to designated sites near each residential building.
"Some even said they wanted a bite of the pot-stewed food from Zhouheiya," she said, referring to the popular delicatessen chain headquartered in Wuhan. "We tried our best to meet such needs."
Now that the outbreak has showed signs of abating in Wuhan, Du said she has resumed an important part of her pre-epidemic work-preparing narration drafts that are geared toward describing films to entertain visually-impaired and blind residents.
She started volunteer work in 2010, when her neighborhood authorities created a movie theater for the visually impaired.
She suspended her college education in 2007 due to her neurofibroma, a neurological condition she developed at age 10 that worsened over time. She had her left leg amputated in 2009. But few in her audience know she has a walking disability.
"Epidemic control is still the priority," she said. "But in the spare time I've got, I started working on narration drafts of two films about unity, hoping to bring it to the screen after the epidemic is fully under control."
So far, she has narrated over 80 films whose narration drafts contain more than a million Chinese characters, all written by her after she repeatedly watched the films.
Since the start of the outbreak, about 4 million community workers have been working on the front line in 650,000 urban and rural communities nationwide, according to the Ministry of Civil Affairs.