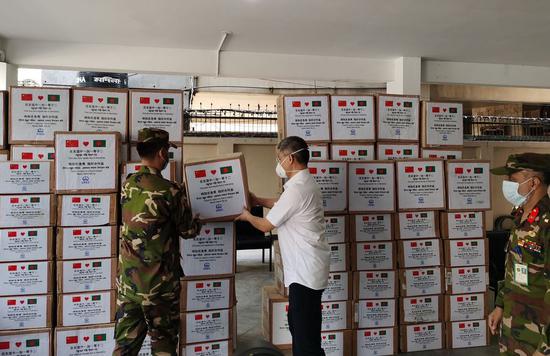 Wang Kun, China Railway Group limited (CREC)'s representative in Bangladesh, hands over donation of medical supplies to an official of a military-run hospital in Dhaka, Bangladesh on April 7, 2020. (Str/Xinhua)
Special: Battle Against Novel Coronavirus
China Railway Group limited (CREC) Tuesday donated medical protection supplies to two Bangladeshi hospitals in capital Dhaka to assist in the country's fight against the COVID-19 epidemic.
In a program held at the CREC office in Dhaka, the medical supplies were handed over to Col. Iqbal Bahar Chowdhury representing a hospital of Bangladesh Army and Lt. Col. Abdul Wahab, assistant director of Kurmitola General Hospital, by Wang Kun, the CREC representative in Bangladesh.
The CREC donations included 10,080 N95 masks, 40,000 disposable surgical masks, 1,000 Medical protection gowns, 400 medical goggles, and 500 COVID-19 detection Kits.
Wang said this is the first batch of medical supplies that CREC is donating to Bangladesh.
For its 9,000 staff and workers in Bangladesh, the CREC representative said it has already procured from China and local market sufficient personal protection equipment such as masks, protective suits, COVID-19 test kits, goggles, hand gloves, infrared thermometers, disinfectants, hand-sanitizers and various kinds of medicines.
All those items are being utilized properly to ensure zero infection among its Chinese and local staff, he said.
Such measures are aimed at keeping implementation of Bangladesh's two mega projects, Padma Bridge Rail Link Project and Padma Multipurpose Bridge Project, undertaken by the Chinese company, uninterrupted despite the outbreak of the COVID-19.
Iqbal Bahar Chowdhury and Abdul Wahab expressed their gratitude to CREC for its timely support in their country's fight against COVID-19, CREC said in a statement.