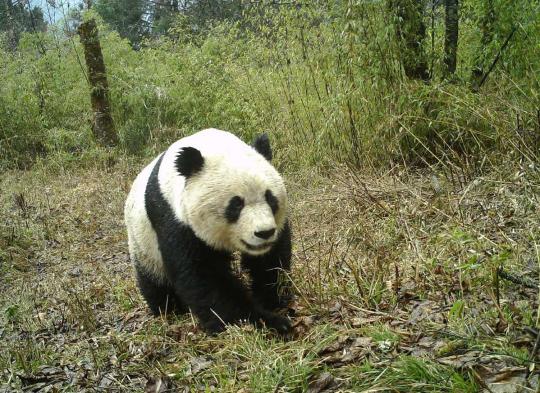 Infrared cameras have captured images of pandas in the Baishuijiang Nature Reserve in Gansu Province, April 13, 2019. (Photo/Xinhua)
An encounter with a wild giant panda could be a once-in-a-lifetime event for a wildlife ranger in northwestern China's sparsely populated giant panda habitat, but infrared cameras augmented with panda recognition technology can capture them more frequently.
In the administration office of the Baishuijiang Nature Reserve in Gansu province, images of wild pandas captured by six field cameras can be seen on screens.
There are about 110 wild giant pandas living in the reserve, which has an area of more than 1,800 square kilometers.
He Liwen, director of the nature reserve administration's giant panda management office, said the panda recognition system built in October enables the cameras to automatically identify giant pandas and begin recording. The system can generate folders to store and manage video clips of panda sightings.
"Bear face recognition is similar to human face recognition technology, but more difficult," He said.
While human facial recognition could distinguish facial features, it was difficult to capture wild animals' faces when they appeared, and cameras more often only captured part of the animals' bodies.
He said the system was very sensitive to panda images.
"The administration began to develop the panda recognition system in 2017 with a massive archive of panda photos taken in the reserve over the years," he said. "This has enabled the system's panda recognition capability."
He said animal protection staff using the system can stay in the office to observe the pandas in their habitat and study their activities.
Forest rangers replace the infrared cameras' batteries and memory cards every three months.
With the introduction of the cameras, a large amount of video footage and many pictures of wild giant pandas have been captured, including video and photos of a panda mother and her cubs.