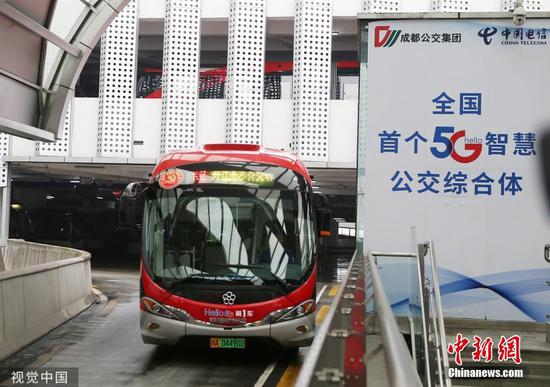 Chengdu's first 5G-covered bus is put into service on October 31, 2019. (Photo/ VCG)
Chengdu, capital of southwest China's Sichuan Province, put the city's first 5G-covered bus into service Thursday, providing passengers with an immersive travel experience.
The bus, which hit the road along a 28-km-long route, is expected to run once to twice a week at irregular intervals, according to local sources.
Passengers were met with various 5G elements on board, including 5G IPTV programs, a real-time view of popular tourist attractions in the city and low-latency games with a pair of virtual reality glasses.
Artificial intelligence can also be used to capture real-time passenger flow data at bus stations and monitor the driving behavior of motorists, which will improve dispatching efficiency, according to the Chengdu Public Transport Group, the operator.
5G technology will have a wide range of applications in public transportation such as smart dispatching, driver behavior analysis, passenger facial recognition and face-scanning payment, the company said.