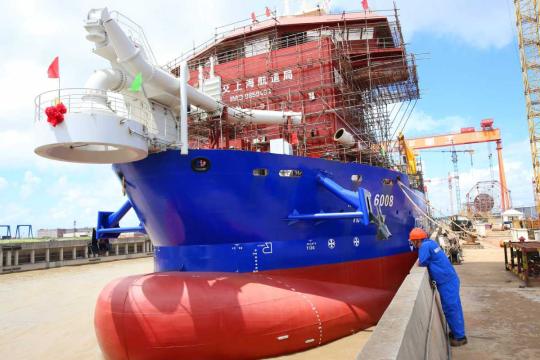 Technicians make final checks on a dredger built by Shanghai Zhenhua Heavy Industries Co Ltd at a shipyard in Qidong, Jiangsu Province. (Provided to China Daily)
Industry alliance looks to integrate market players, raise product quality
China will take more steps to standardize marine equipment manufacturing, improve the quality and competitiveness and encourage overseas participation, experts and officials said.
"It is an urgent task to create a number of unified standards to cover design, test trials, production, maintenance and scrapping in China's marine equipment manufacturing," said Wang Liyu, chairman of Marine Equipment Inspection and Testing, a leading marine equipment maker from Qingdao, Shandong province.
The company initiated the China Marine Equipment Inspection and Testing Alliance, which was launched on Monday. "The alliance aims to integrate different market players including manufacturers, researchers, testers, clients as well as lenders to collaborate in solving major technical problems and improve quality management in the marine equipment sector," said Wang.
Currently, the alliance has been joined by the industry's leading institutions and enterprises across the country, including the China Classification Society, the National Institute of Metrology, the China National Institute of Standardization, the Pilot National Laboratory for Marine Science and Technology and Institute of Oceanology of the Chinese Academy of Sciences.
Wang said that his company, as the only third-party inspection and testing organization in marine equipment manufacturing, has participated in the development of 23 standards in fields such as ship electrical power systems, corrosion control and high-voltage electrical apparatus, 14 of which have been released.
"With the members' efforts, the alliance is expected to realize mutual recognition with leading international testing agencies, which will help popularize Chinese standards abroad," said Wang.
According to data from the State Administration for Market Regulation, there are 39,500 inspection and testing organizations in China with revenue reaching 281.05 billion yuan ($40 billion) from 2013 to 2018, indicating that China has become the most lucrative market in the world with the fastest growth.
However, the majority of the relevant enterprises are still in the infancy stage. The inspection and testing of marine equipment depends largely on foreign standards.
Chen Yue, an official from the State Administration for Market Regulation, said the establishment of the alliance is in response to the central government's calls for improving quality and technology level of the marine equipment manufacturing sector.
"The alliance is expected to be tasked with resources sharing, standardization among alliance members, promoting trade and exchanges with countries and regions involved in the Belt and Road Initiative," said Chen.
The establishment of the alliance was among the fruitful achievements of the 2019 Qingdao Forum on International Standardization, with top officials and experts from across the world calling for standardization as a solution to address major global challenges and urging more international cooperation on standardization efforts.
John Walter, president of the International Organization for Standardization, said standards are key tools to achieve sustainable development and to create intelligent ways of working and new technologies are key contributors to these goals.
"Economic and trade uncertainty, digital transformation and the impact of climate change are all challenges of our time, which will have a significant influence not only on what standards we develop but how we develop them," Walter said.
Frans Vreeswijk, general secretary and CEO of the International Electrotechnical Commission, said digitalization and the fourth industrial revolution directly depend on standardization to allow systems of different manufacturers to interconnect and interoperate without the need for special integration efforts.
"In industry, the speed of innovation has accelerated to the point where individual companies can no longer develop everything alone. While companies are highly competitive, they must now collaborate even more to deliver broad solutions for increasingly complex systems,"Vreeswijk said.
This requires systems standards that incorporate a top down and bottom up view and are the result of the coordinated contributions of many experts from many different fields and organizations, he said.
The three-day forum in Qingdao, which concluded on Tuesday, had" International Standards and the Fourth Industrial Revolution" as its theme and attracted more than 400 participants from around the world.
A total of 21 cooperative agreements on standard works were signed during the forum. VDE, a renowned global standards, inspection and testing organization based in Germany, has decided to establish a representative office in Qingdao. The organization plans to provide better consultancy services to governments, institutions and enterprises in China.