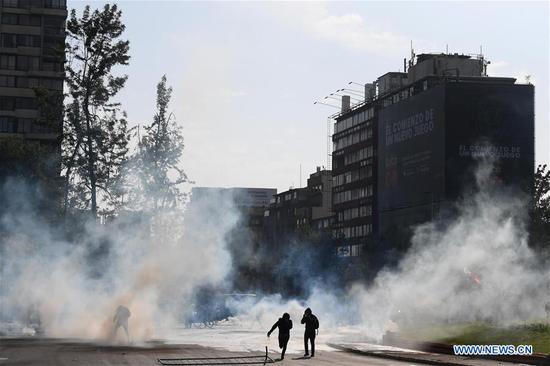 People participate in a protest in Santiago, Chile, Oct. 19, 2019. (Xinhua/Jorge Villegas)
Riots in Chile have claimed 15 lives, according to the latest official report on Tuesday.
The figure added four more victims to Monday's death toll of fatalities in the capital Santiago and the Metropolitan area.
Chile's Deputy Interior Minister Rodrigo Ubilla said two people died in shootings in La Serena and Coquimbo in northern Chile, and the third was hit by an army truck in Talcahuano in the south.
The fourth victim was allegedly shot by a soldier, according to local media, though officials offered no details of the incident.
Some 2,643 people have been arrested, he said.
There was a "significant reduction in violence" Monday night as a curfew was in effect in half the country, including the capital, he said.
"We've made progress today with security forces and armed forces bringing calm to different regions of the country," he said.
However, Chile has not yet returned to a "state of normalcy," he said, assuring Chile's armed forces have not been "overtaken."
The protests were sparked on Oct. 14 by a hike in subway fares and grew into riots against the high cost of living.
On Saturday, President Sebastian Pinera declared a state of emergency and imposed a curfew in 15 of the 16 regions in the country.
Pinera was set to meet later on Tuesday with leaders of all the political parties to work on a plan to address the unrest.