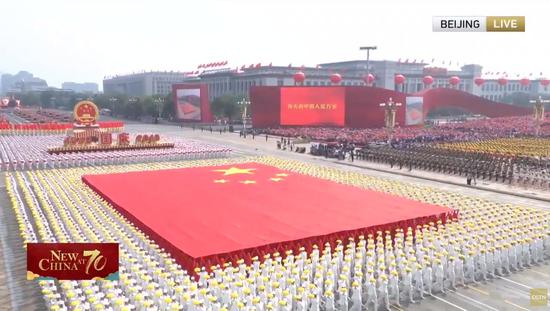 A mass pageantry kicks off on Tian'anmen Square in central Beijing following a grand military parade Tuesday to celebrate the 70th founding anniversary of the People's Republic of China. (Photo/CGTN)
Special: 70th birthday of PRChina
A mass pageantry kicked off on Tian'anmen Square in central Beijing following a grand military parade Tuesday to celebrate the 70th founding anniversary of the People's Republic of China.
Themed "Jointly Fulfilling the Chinese Dream," the mass pageantry consisted of three chapters: Founding and Construction of the People's Republic, Reform and Opening-up, and Great Rejuvenation.
A total of 100,000 people and 70 floats in 36 formations joined the mass pageantry.
The mass pageantry presented the great journey in which the Communist Party of China has united and led Chinese people of all ethnic groups to stand up, grow rich and become strong, expressing the people's sincere praise and deep love for the Party and the motherland.