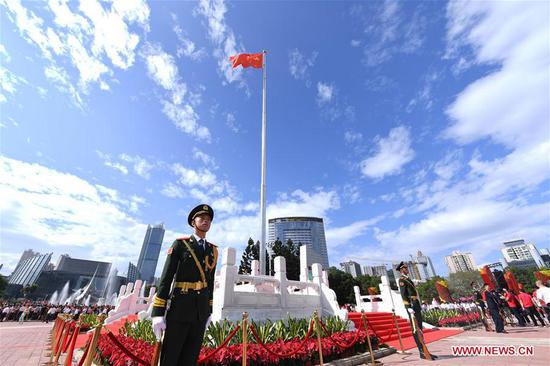 Photo taken on Oct. 1, 2019 shows a flag-raising ceremony to celebrate the 70th anniversary of the founding of the People's Republic of China in Fuzhou, capital of southeast China's Fujian Province. (Xinhua/Lin Shanchuan)
A solemn flag-raising ceremony in celebration of the 70th founding anniversary of the People's Republic of China was held Tuesday morning in central Beijing.
Amid 70 gun salutes, the national flag guards escorted a five-star red flag marching from the Monument to the People's Heroes toward the national flag post in the northern part of Tian'anmen Square.
While the flag was being hoisted, ceremony attendees sang loudly as a military band played the national anthem.