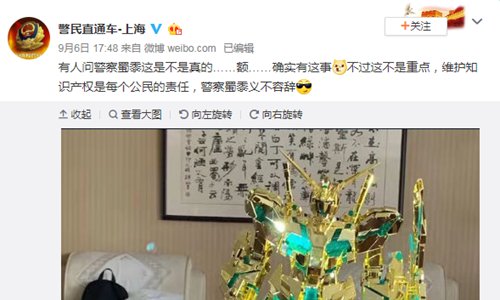 Japanese toymaker Bandai gives a limited edition gold plated Unicorn Gundam figure to the Shanghai police after they busted a 300 million yuan ($42 million) counterfeit case. (Photo/Screenshot from the Sina Weibo account of Shanghai police)
Popular Japanese toymaker Bandai gifted a large gold-plated figurine of one of its warrior characters to the Shanghai police as a token of appreciation after the police busted a 300 million yuan ($42 million) counterfeit case.
The gold-plated Unicorn Gundam scale figure, which is based on a giant robot from its Gundam franchise, is said to be the only one in the world, Pear Video reported on Friday.
The gift came after Shanghai police arrested a group of counterfeit toymakers, discovering more than a million fake toys worth nearly 300 million yuan in August.
Toys from Bandai were among those that were counterfeited.
Bandai also gave the police a plaque, a more typical Chinese way to express gratitude, calling the Shanghai police "pioneers in law enforcement, guardians of intellectual properties."
The Shanghai police said in a Friday Sina Weibo post that while they appreciate the gift, it is their duty to protect intellectual property.