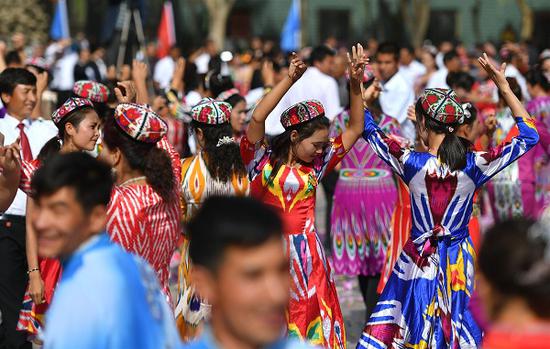 Nearly 10,000 residents dance in local Dolan Maxrap folk style in Awat county in the Xinjiang Uygur autonomous region on Oct 9, 2018. (Photo/China News Service)
A senior Chinese diplomat said stability and security are indispensable to development and enjoyment of human rights, and only with overall social stability can the Xinjiang Uygur autonomous region achieve progress.
Chen Xu, head of the Chinese mission to the United Nations Office at Geneva, spoke at a side event on Wednesday on China's human rights protection of ethnic minorities during the 41st session of the UN Human Rights Council.
Chen said Xinjiang is enjoying the fastest development and greatest stability it has ever seen. He said Xinjiang's gross domestic product topped 1.2 trillion yuan ($174.5 billion) in 2018. Between 2014 and 2018, 2.3 million people in Xinjiang were lifted out of poverty. Last year, Xinjiang received 150 million tourist visits, a figure expected to reach 200 million in 2019.
"Freedom of religion, cultural rights (and) the right to use spoken and written languages of all ethnic groups are guaranteed by a host of measures," he said. "The people in Xinjiang today are offered greater happiness, benefits and security."
Chen said Xinjiang was once plagued by terrorist attacks. Since the 1990s, ethnic separatists, terrorists and religious extremists inside China and abroad orchestrated thousands of terrorist attacks in Xinjiang, taking many innocent lives and inflicting inestimable property losses.
Undaunted by the huge challenge, Xinjiang was determined to take lawful actions to fight crimes of violence and terrorism, and at the same time to take preventive and deradicalization measures to address the root causes.
"Setting up vocational education and training centers is the centerpiece of the program," Chen said.
"Trainees are able to get back on track to a normal life and stop falling prey to terrorism and extremism," he added.
"For almost three years, Xinjiang has not seen a single terrorist attack," Chen said, calling it China's contribution to the global fight against terrorism and radicalization.
Unfortunately, he said, some politically driven anti-China forces are telling downright lies about Xinjiang "unashamedly", and fictions are churned out to fool the international community.