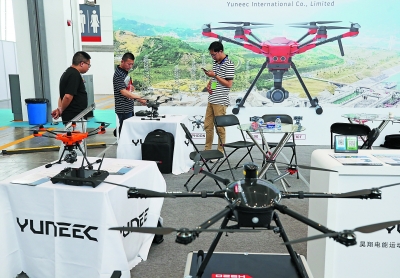 Drones equipped with beidou. (Photo/Nanjing Daily)
A satellite exposition opened Tuesday in Nanjing, capital city of east China's Jiangsu Province, displaying the latest navigation technologies and products of BeiDou satellites.
The three-day exposition, the second China (Nanjing) BeiDou Satellite Navigation Application Expo, will attract 200 exhibitors and 5,000 visitors, according to its organizer.
Over 30 scholars and academicians from the satellite and smart industries will also participate in a forum held during the expo.
BeiDou satellite applications in drones, unmanned ships, surveying and mapping equipment, intelligent robots, vehicles and VR headsets will be showcased.
Named after the Chinese term for the Big Dipper constellation, China's BeiDou navigation system is one of the four space-based navigation networks operating globally, along with the U.S. GPS system, Russia's GLONASS and the European Union's Galileo.
The BeiDou system currently has 38 in-orbit satellites. China will launch six to eight new BeiDou satellites this year.