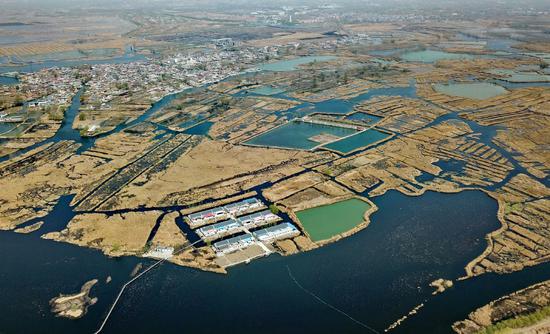 An aerial view of Xiongan New Area. [Photo/Xinhua]
A development plan for Xiongan New Area in North China was open on Saturday for public comments and suggestions, which will last for one month.
The design and planning of China's millennium green city featuring innovative development was jointly made by 24 well-known planning and design teams around the world. They were selected by the Chinese government from 400 international urban design and consultancy institutes and companies.
China announced plans in 2017 to establish the Xiongan New Area, located about 100 kilometers southwest of Beijing. The construction is scheduled for this year.
There are two designing plans for the building. One is for the first construction area, or the startup area, designed for taking over Beijing's functions nonessential to its role as the national capital.
The planned start-up area is 38 square km, including 26 square km of urban construction land.
The 11-chapter plan sets overall development requirements, and details of urban layout and land use including greening space, public services and housing, transportation system, infrastructure and urban safety system.
The plan for a larger area, about 198 square km, is divided into 12 chapters, including general requirements, functional layout aimed at building a beautiful, natural, ecological environment for Xiongan with a safe and green urban water system, and blueprints for development of high-end and high-tech industries.
It sets a tone of encouraging high-quality shared public services, a green and efficient transportation system, green and intelligent municipal infrastructure, and boast a modern security system.
A 40-member technical team composed of professionals from the Xiongan New Area planning research center and China Academy of Urban Planning & Design is responsible for consulting public opinion on the planning.
Xiongan spans three counties in Hebei province-- Rongcheng, Anxin and Xiongxian. Now work is underway to lay the underground pipelines and water, power, gas infrastructure of the area, which is expected to cover 1,770 square kilometers, roughly the size of Shenzhen.
Construction is slated to begin soon in the Rongdong area, a 13-sq-km residential area that is expected to be home to 170,000 people to the east of Rongcheng County.