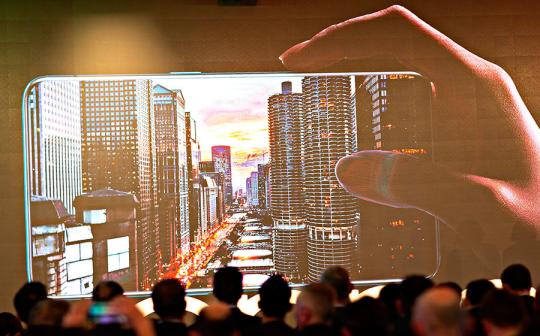 Oppo's first commercial use 5G mobile phone Reno 5G is released in Zurich, Switzerland, on April 24. (Photo/Xinhua)
Celebrity branding seems to be getting less popular in China's smartphone arena, as local players are stepping up research and investment push to revive a market mired in an innovation lull.
Oppo, previously known as a pioneer in writing big checks to hire celebrities as product spokesperson, is now pouring more resources into research and development, in the hope of sustaining its competence in the 5G arena, or the fifth generation mobile technology, with cutting-edge products and services.
The company said on Friday that it would invest 10 billion yuan ($1.46 billion) in R&D this year and expand its R&D staff to over 10,000 people.
Shen Yiren, vice-president of Oppo, said in an earlier interview that the company would scale down its marketing budget and direct more resources to upgrade and innovate its products. So far, Oppo has set up six research institutes all over the world.
Such an attitude is a sharp contrast from several years ago when Oppo roped in six popular Chinese stars to promote just a single smartphone model.
Oppo's peer Vivo is also working hard to shake off its reputation as a brand known for marketing and to rebuild its image as an innovative player that constantly experiments with new smartphone designs and features.
In January, Vivo unveiled an all-glass, nearly "holeless" concept phone, which is widely seen as a possible trend in the future that emphasizes extreme simplicity. The model, known as the APEX 2019, features a high screen-to-body ratio and slim bezels and boasts only a tiny microphone slit below the screen.
There's no headphone jack and no USB-C port, common parts in a normal handset. Charging is handled by a rear-mounted magnetic connector that can also be used for data transfer.
At the same time, Vivo is also reducing the budget to recruit celebrities for branding and marketing purposes.
Xiang Ligang, director-general of the Information Consumption Alliance, said such a shift in companies' strategies mirrors the saturation and maturity of the Chinese smartphone market.
"Smartphones are getting increasingly similar. Signing a super star to promote models may still appeal to core fans, but it does not work with the general public," Xiang said.
Also, the spiraling down pressure in smartphone shipments has left vendors with less money and they have decided to invest the limited resources into R&D, which can better prepare them for the upcoming 5G era and gain a first-mover advantage.
Data from market research company International Data Corp show that in the first three months of 2019, global smartphone shipments fell by 6.6 percent year-on-year to 311 million units.